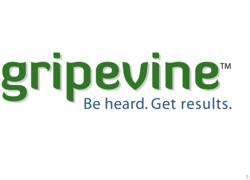 Social media simply allows us to experience the connection that we already have with one another.
(PRWEB) September 28, 2012
Three public interest groups plan to file a complaint about AT&T with the Federal Communications Commission over the wireless service provider's plan to limit access to Apple's FaceTime video-conferencing tool. AT&T wants to charge its iPhone and iPad customers extra if they are not customers of its Mobile Share data plan. Consumer complaint resolution social media service, Gripevine encourages customers to weigh in on what they think while AT&T and the advocacy groups argue over the rules. The core of the formal complaint is under federal government's Internet antidiscrimination rules, reported The Wall Street Journal.
On Gripevine, customers can let companies know exactly what they would like to see a company do. Gripevine allows consumers to share their complaints with friends and followers. As more and more people chime in, companies typically listen.
"Gripevine recognizes that there is only one side to a good story, the right side, and that resolving complaints is in everyone's best interest," said David Carroll, a co-founder of complaint resolution service, Gripevine. "Social media simply allows us to experience the connection that we already have with one another."
Also, AT&T's rival Verizon Wireless has said all of its data customers can use FaceTime. Use of the service would be counted against monthly data allowance rather than voice minutes allowance, Reuterst reported
"Central to good customer service is the concept of 'caring'; caring about your products, their design, those who make them, sell them and buy them. If it is present at the highest levels of the organization caring will find it's way down the chain and back up again. Companies with a caring culture will be relevant tomorrow," said Carroll.
If you need a complaint resolved, be heard on Gripevine at gripevine.com
About Gripevine:
Gripevine connects customers and companies on a fair and level public playing field where they can come together to create win-win resolutions to common consumer complaints. Customers can use Gripevine to leverage the power of social media to get their stories heard. Companies can use their Customer Satisfaction Index on Gripevine to show the world the quality of their customer service. By leveraging the power of social media, both groups of users can ultimately affect a company's Customer Satisfaction Index on Gripevine, which provides an effective scale for the quality of customer service.