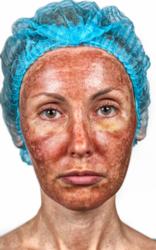 Las Vegas, Nevada (PRWEB) September 28, 2012
"One can buy insanely strong peels online especially eBay. In the past month, we've had 3 different people in with severe, possibly permanent burns that will lead to scarring, from things they bought online. One person's product label told her to apply cool water after use, when in all actuality, that drives this kind of peel in deeper if you don't combine it with baking soda first," reports Dr. Rueckl of Lakes Dermatology in Las Vegas. He continued, "Plus people think if something is like 70% instead of like 30% that's better - when actually the 30% could be deeper and stronger depending on the chemical and its other ingredients. People are budgeting their money, which is great, but buying things that are dangerous and shouldn't be allowed." Everyone has different skin and needs and the dermatologist will look at the patient's skin and determine what is best.
At Home Hair Removal Kits
"We had a patient in this summer who bought a home hair removal device that has a maximum of 7 joules. But medical office units have 50 joules, so she was upset she wasn't getting good results and so she started using it everyday, multiple times. Unfortunately she was hoping to remove hair in her private areas and she now a a very blistered and uncomfortable area."
Rueckl also stated, "People think that just because it's online it's 1. true and 2. safe, and it's just not. There are reasons we don't put chemicals on people's faces - and they're doing it at home.Don't risk serious injury to save a few bucks. This is one place where it is wise to consult the professionals."
"The "at-home" companies are NOT going to tell you what your results will be. They can't. If the company is allowing you to do it at home, it must be safe. Right? Dead Wrong! However, if something bad does happen. and with the help of the "professionals" you tried to avoid, you can most often return to the norm, Why take a chance scarring your beautiful face and besides that, there are many other great treatments that work quickly and deliver better results," continued Rueckl.
Moles & Warts
"We have had people tell us that they used Apple Cider, Aloe Vera and Dental Floss tied around the base of the mole. A mole or wart has a great deal of growth below the skin and while you might be successful, not for long. That wart or mole must be removed below the surface of the skin to be successful. And I tell many of my patients not to bother, as some will leave scars," said Dr. Rueckl.
"Some moles are actually warty growths called seborrheic keratoses. Dermatologist treat these by freezing or burning them off. True moles (nevi) cannot be removed except by surgery. Beware: surgery on the chest leaves some of the worst scars of any area on the body, so sometimes it is better to keep the mole, unless your dermatologist is worried about malignancy. Evaluation First: Moles should be evaluated by a dermatologist. If the dermatologist determines that it is indeed a mole, then the question comes up what to do about it. After years of experience we can usually determine immediately what needs to be done, We can then determine whether the mole is suspicious enough to warrant its removal."
"Based on this knowledge the dermatologist may advise you to have the mole excised. There are principally three options: a shave excision, a punch excision or a regular surgical excision. In a shave the dermatologist will tangentially cut the mole off with a sharp scalpel blade. No sutures required. In the punch biopsy, the dermatologist will use a small cookie-cutter apparatus and twist the mole plug out. One or two fine sutures follow. If the mole is larger a surgical excision will be performed. Have the dermatologist determine if the mole is benign first before trying any crazy at home methods. You could be playing with fire."
Botox, Silicone & Fillers
"I am just going to set the record straight. You are not buying legal Botox, Silicone or Fillers on the internet. Allergan, the manufacturer of Botox and Juvederm ensures that only physicians and physician licensed offices receive these drugs. If someone offers to sell you these products they are most probably out of date and will not create the look you want. Secondarily, you may remember where your doctor injected you, but did you remember the depth of the needle or amount of product he injected? Probably not. You can get yourself into a big problem with these drugs and I urge you to seek professional assistance for these anti-aging products," Rueckl urged.