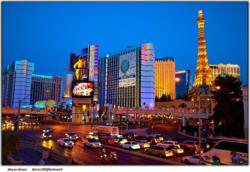 (PRWEB) September 27, 2012
Las Vegas boasts one of the lowest car rental rates in the USA, according to a new survey from CheapCarRental.net. In coming up with its rankings, the survey compared 50 destinations in the United States based on their car rental rates. The summer period spanning June to August 2012 served as the basis of comparison.
In Nevada's Sin City, the average rate this past summer for the cheapest available car was $32 per day. At that price, Las Vegas landed in position #46, with only Fort Lauderdale, Albuquerque, Milwaukee and Columbus coming in a bit cheaper.
The most expensive city to rent a car, according to the survey, was Anchorage, Alaska. There the average daily rate was $95. One dollar behind (at $94 per day) in second place was Honolulu, Hawaii. The nation's capitol of Washington, D.C. followed in third place at an average of $81 per day.
The following table shows the five most expensive and least expensive destinations to rent a car in the United States. The prices shown coincide with the average daily rate for the cheapest available car in each city. Each respective city's airport was chosen as the Pick Up and Drop Off location.
1. Anchorage $95
2. Honolulu $94
3. Washington, D.C. $81
4. Denver $79
5. New York City $78
------------------------
46. Las Vegas $32
47. Fort Lauderdale $31
48. Albuquerque $30
49. Milwaukee $29
50. Columbus $28
For the full rankings of the survey, visit http://www.cheapcarrental.net/press/summer-2012.html.