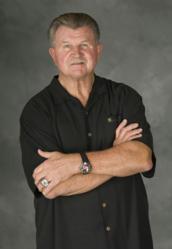 There is no bigger sports freak out there than Mike Ditka. His passion for sports is legendary, and we are honored that he has agreed to partner with SportsFreak365.com
Waukesha, Wis. (PRWEB) September 27, 2012
Legendary Hall of Fame football player and coach Mike Ditka announced today his partnership to become the official spokesperson for sports website retailer http://www.SportsFreak365.com.
The website is a one-stop shop for the latest in NFL, MLB, NBA, NHL and college team licensed products including t-shirts, hats, jerseys, hoodies, tailgating merchandise, calendars and much more, with new products added weekly.
Jeff Werner, CEO and president of SportsFreak365.com, is thrilled to have Coach Ditka join the brand's team. "There is no bigger sports freak out there than Mike Ditka. His passion for sports is legendary, and we are honored that he has agreed to partner with us. When we approached him with the idea, Coach Ditka realized quickly that SportsFreak365.com is the place where passionate sports fans can find all of their favorite sports teams' licensed products."
Ditka coached the Chicago Bears for 11 years and the New Orleans Saints for three years, and he appears regularly on ESPN television and radio. He played professional football for 12 seasons between the Bears, Philadelphia Eagles and Dallas Cowboys. He was inducted into the NFL Hall of Fame in January 1988, and is one of only two people to win Super Bowls as a player, an assistant coach, and a head coach. Ditka was the only individual to participate in both of the last two Chicago Bears' championships - as a player in 1963 and as head coach in 1985.
http://www.SportsFreak365.com is an affiliate of Perfect Timing, Inc., headquartered in Waukesha, WI. Perfect Timing, Inc., is also the parent company for Turner Licensing, Lang and Avalanche brands. It is owned by an affiliate of Sun Capital Partners which is headquartered in Boca Raton, FL.