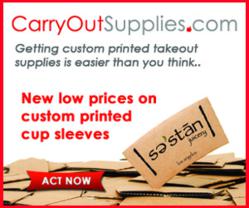 We are expecting huge demand for this service due to our new low prices.
(PRWEB) September 27, 2012
Starting October 1st, CarryOutSupplies.com will introduce even lower prices for custom cup sleeves. This deal comes just in time for the winter season when everyone will want to enjoy a cup of joe or a lovely cup of tea.
Getting cup sleeves personalized with the company logo is an effective way to start branding a business. At the same time it is also very cost effective since cup sleeves can fit many coffee cup sizes versus custom printing a whole line of paper cups. For businesses that just want to start trying out branding, custom printed cup sleeves is a great option.
"We are expecting huge demand for this service due to our new low prices," commented Waylon Huang, VP of Operations at CarryOutSupplies.com. "On top of our new low prices, we are still offering the same quality product that CarryOutSupplies.com's clients have come to expect."
Service is on a first-come, first-served basis, so interested shop owners and operators are strongly encouraged to contact CarryOutSupplies.com right away to ensure speedy delivery of their very own cup sleeves.
In addition, CarryOutSupplies.com is rolling out new low pricing for their online products, which will include additional savings for multiple quantities ordered.
"We're a wholesale distributor and it makes sense that we offer discounts for people who want to buy wholesale," Mr. Huang added. "This is a step in the right direction and our goal is to provide an easy, fast, and better online experience for our customers."
Coffee shops, delis and food-service businesses of all sizes – from mom-and-pop shops to large franchises – can learn more about CarryOutSupplies.com's selection, features and pricing by visiting the company's website. They can also be contacted by calling 888-982-1862 Monday through Friday, from 9am to 6pm (PT).
About CarryOutSupplies.com
CarryOutSupplies.com, the leader in paper and plastic disposable takeout supplies, is dedicated to offering quality products, low prices and reliable customer service. The company started serving the local marketplace in 2004 and expanded its operations in 2007 to serve nationwide demands. Throughout its history, the company has experienced growth every year by maintaining and increasing a loyal clientele, and offering competitive prices and convenience with its free custom print service for custom paper cups and custom plastic cups. Learn more at CarryOutSupplies.com.