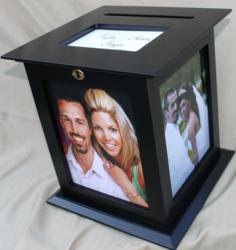 Brighton, MI (PRWEB) September 28, 2012
As a company in the wedding industry; Kelly Marie Collections offering THE PERFECT CARD BOX® is always looking for ways to offer more value to the customer. In addition to offering a patented wedding card box with its trademarked name; THE PERFECT CARD BOX®, the company recently launched a wedding blog offering its customers a richer experience while shopping on the website, http://www.theperfectcardbox.com
The new wedding blog; motherdaughterweddingchatter.com has seen a great response since its recent launch. Recent blog posts have touched on The Hipster Wedding, Tents, Veils, Balloons and Umbrella's to name just a few of the unique topics blogged about on the site.
Kelly Marie Collections is proud to introduce our new bloggers, Erica and Chelsea who joined Kelly Marie Collections with a desire to offer clean, simple blog posts that would provide the bride with new fresh ideas without information overload and burying the customer in text and photos. It is a good fit as this blogging style matches the style of the products offered on the website.
Erica a bride herself was married in 2007. Her own personal style is clean and traditional, she offers this same approach in her blog posts.
Chelsea a bride as well was married in 2011 and leans more towards a casual, vintage style for herself and her blog posts also.
Kelly Marie Collections is thrilled to have the practical insights and expertise of both Erica and Chelsea on staff as our company bloggers and look forward to the wisdom they will offer the brides they connect with.
Kelly Marie Collections and The Perfect Card Box® offering a patented wedding card box to the wedding industry. Their products can be found at http://www.theperfectcardbox.com