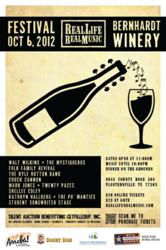 "Our radio show and our festival are all about the song," states Kyle Hutton, host and founder. "And once a year we honor the craft with a full day of our favorites out at Bernhardt Winery."
The Woodlands, Texas (PRWEB) September 27, 2012
The annual Folk and Americana Festival features industry veteran songwriters Walt Wilkins and Chuck Cannon along with a host of burgeoning area student songwriters.
Real Life Real Music, a syndicated radio program recorded live in The Woodlands, moves from its regular home at Dosey Doe to Bernhardt Winery for an all-ages salute to the craft of songwriting, October 6, 2012. The festival, a who's who of Folk and Americana writers offers a line up that will eclipse the expectations of the most seasoned music enthusiasts. In addition, Real Life will present 13 local student troubadours who will perform in between the activities on the main stage.
Real Life Real Music, currently broadcast locally on 99.7 KVST (Conroe/Huntsville), airs weekly in 10 Texas markets including Amarillo, Ft. Worth and Abilene. Its trademark is the ability to take listeners behind the lives and songs of the shows guest artists. "Our radio show and our festival are all about the song," states Kyle Hutton, host and founder. "And once a year we honor the craft with a full day of our favorites out at Bernhardt Winery."
Hutton, an acclaimed artist in his own right with four CDs, three Texas Music Chart topping hits, and latest disc produced by Grammy winner Lloyd Maines, joins more than a few of his personal songwriting favorites including Walt Wilkins and the Mystiqueros, Folk Family Revival, Chuck Cannon, Mark Jones, Shellee Coley, and Kathryn Hallberg & the Po' Mantics for the event. While each of the acts on the bill has achieved local and regional notoriety, Wilkins and Cannon have broken through nationally as songwriters with songs recorded by artists including George Strait, Willie Nelson, Toby Keith, Kenny Rogers, The Judds, and more.
Throughout the day festival attendees can sample Bernhardt's award winning wines and enjoy an authentic chuck wagon dinner on the grounds. Attendees can also bid on silent auction items including guitars signed by Real Life Real Music artists like BJ Thomas, David Ball, Darrell Scott and more. Silent auction proceeds benefit GetFilledUp, Inc. a 501(c)3 that provides needed resources to the music community. Corporate sponsors Arriba Salsa, Healthy Beginnings Chiropractic and Dosey Doe partner with Real Life in the presentation of this all-star event.
The gates at Bernhardt, just west of Montgomery off Hwy 105, open at 11:00am. Kathryn Hallberg and the Po' Mantics kick off the music at 12:00, followed by Shellee Coley at 1:15, Mark Jones & Twenty Paces at 2:45, Chuck Cannon at 4:15, Kyle Hutton Band at 5:45, Folk Family Revival at 7:15, and Walt Wilkins & The Mystiqueros at 8:30. Show ends at 10:00pm.
Limited VIP tickets including "rain or shine" seating, winery tour and tasting, and artist meet and greet are available, along with $20 advance general admission tickets. For more information or to purchase tickets, visit http://www.realliferealmusic.com/festival.