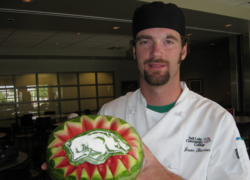 New restaurateurs just don't understand cash flow. Passion is important, essential even, but the reality is that many people are only interested in—and prepared for—a small part of what it means to be a professional in this industry.
Salt Lake City, UT (PRWEB) September 26, 2012
Salt Lake Community College offers an apprenticeship-based Culinary Arts program. For more than 25 years, SLCC's Culinary Institute has prepared students for culinary careers that prepares students for the business side of the industry as much as its culinary aspects.
Aligned under the School of Business, the Culinary Institute program covers sanitation and food safety, nutrition, menu design, food preparation, baking, marketing, and purchasing.
Since he arrived at the College, Andreas Fleckenstein, SLCC's Associate Dean of the Division of Management, Marketing, & Culinary Arts, has taken a business-like approach to making sure that SLCC students are well prepared in all aspects of the industry. His extensive background in the many facets of the industry puts him in an ideal position to preach what he's already practiced.
"With cooking programming saturating television and other media today, it's easy to love food. The Food Channel, Iron Chef competitions and shows of this type do a great job of cultivating the joy that people take from preparing food," Fleckenstein said. "But new restaurateurs just don't understand cash flow. Passion is important, essential even, but the reality is that many people are only interested in—and prepared for—a small part of what it means to be a professional in this industry. In fact, the culinary program—by design through the NRAEF [National Restaurant Association Educational Foundation] Manage First program—is 65 percent management—that's why it's part of, and belongs in the School of Business at Salt Lake Community College."
Salt Lake Community College recently received a rare 7-year accreditation from the American Culinary Federation Education Foundation (ACFEF). The ACFEF is the educational arm of the only organization in the US that certifies professional culinary arts students. Because the College program is fully compliant with the high accreditation standards set by the ACF, it is one of only 47 nationwide programs granted 'exemplary' status by the ACFEF.
The Culinary Arts program at SLCC also offers a unique course at the Utah State Capitol where students run a cafeteria and catering service for state legislators and Capitol visitors.
"The College's contract with the Utah State Capitol has been great in providing our students with hands-on work experience, and has given us another place for our students to learn, train, and work," Fleckenstein said. Called the Capitol Culinary Arts Project (CCAP), this program provides catering and dining services at the Utah State Capitol.
The students who work at the Capitol get experience in virtually everything needed to become a quality chef. Students acquire preparation, cooking, serving and menu development skills, and get introduced to how to manage a kitchen - to make sure all food is fresh, safe and organized. They also study how to manage food costs, how to cook in volume consistently and learn kitchen budgeting skills.
This program grew out of student work done at the inauguration of Utah Governor, Gary R. Herbert in 2009. SLCC students were invited to prepare and cater food for the ceremony that was held at the Utah State Capitol. Members of the Preservation board at the Capitol were so pleased with the students' work that the College was invited to submit a proposal to provide the Capitol's food and catering services.
"We love everything that's happening. It's a win-win situation for everyone involved", said Alyson Gamble Director of the Capitol Preservation Board. "This is a great example of state agencies working effectively together."
SLCC offers an Associate of Applied Science degree, transferable credits, and eligibility for American Culinary Federation (ACF) certification as a Certified Culinarian.
About the College: Salt Lake Community College is an accredited, student-focused, urban college meeting the diverse needs of the Salt Lake community. Home to more than 62,000 students each year, the College is the largest supplier of workforce development programs in the State of Utah. The College is the sole provider of applied technology courses in the Salt Lake area, with 13 sites, an eCampus, and nearly 1,000 continuing education sites located throughout the Salt Lake valley. Personal attention from an excellent faculty is paramount at the College, which maintains a student-to-teacher ratio of less than 20 to 1.
# # #