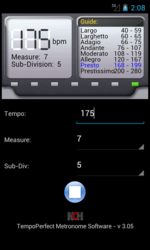 TempoPerfect is the first Android application from NCH Software, but be sure to stay on the lookout for more apps in the coming months.
Denver, CO (PRWEB) September 27, 2012
NCH Software, a leader in affordable, easy-to-use audio, video, business and other software utilities, today announced their entrance into the Android market with the release of their TempoPerfect Metronome Software application.
"NCH Software first started releasing iPhone versions of some of our most popular programs in 2009 and we have received a lot of positive feedback about those mobile applications, as well as many requests for Android applications. We are thrilled to finally be entering this market," said Jennifer Saksa, Marketing Manager.
TempoPerfect is a free metronome app for keeping a clear and precise beat. Metronomes are an essential musical tool for keeping time, improving practice sessions, and for developing a consistent rhythmic feel. TempoPerfect allows musicians to accurately set the beats per minute (BPM) for any simple or compound tempo, with a BPM reference chart for tempo markings from largo to allegro.
The easy-to-use TempoPerfect interface also allows you to subdivide beat patterns to hear tricky patterns like triplets, or to accent the first beat in a measure when working in difficult time signatures. The portability of these features on an Android mobile device means always having a metronome in your pocket for easy reference.
"I bring my Android phone with TempoPerfect to every guitar practice with my friends," says Tim Mietty, Denver based musician. He enjoys the simplicity of the app for keeping everyone on beat.
TempoPerfect is now available for free on the Google Play store and is also available for Windows and iPhone/iOS devices. Stay on the lookout for more Android apps from NCH Software in the coming months, with plans to release a Pocket Dictate dictation app, WavePad audio editor and other popular programs.
About NCH Software
NCH Software is committed to developing high-quality apps for the Android market from its catalog of over 80 easy-to-use software applications for audio, video, business, dictation and other utilities. By offering such a wide breadth of software applications at affordable prices, NCH Software is where users turn for reliable software applications for any need. This approach generates millions of visitors and software downloads each month from the company's website – http://www.nchsoftware.com.