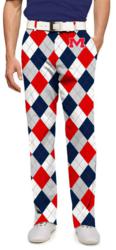 Loudmouth Golf is excited to announce their new line of collegiate tailgate pants.
San Francisco, CA (PRWEB) September 27, 2012
Get your game pants on! Loudmouth Golf, the leader in bold and bright apparel, is excited to announce their new line of collegiate tailgate pants. Available in Loudmouth's iconic patterns, the collegiate line is perfect for students, alumni, faculty and superfans who are loud and proud of their schools. Currently there are eighteen schools available including The University of Alabama, University of Arkansas, University of Mississippi, University of Kentucky, and University of Tennessee.
"At Loudmouth, we want all sororities and fraternities to look their best and alumni to be the talk of the tailgate," says Loudmouth Golf CEO, Larry Jackson. "Our pants give a whole new meaning to school pride … and besides, chicks dig'em," adds Jackson.
Loudmouth's college line, which is licensed by The Collegiate Licensing Company on behalf of its partner institutions, is offered for men and women and is available in the made-to-order section of the Loudmouth website. Made-to-order is Loudmouth's revolutionary, flexible way for customers to design pants to their exact specifications. This includes selecting custom lengths, style options and licensed embroidery. Men's pants are available up to 60" waist and 40" inseam. Ladies skorts and shorts are available in a variety of inseams.
Additional schools for Loudmouth's college line include: Georgetown University, Louisiana State University, Morehead State, Oklahoma State, Oregon State, Purdue University, San Jose State University, Texas Tech, The University of Kansas, University of Connecticut, University of Georgia, University of Nebraska, University of Memphis. Loudmouth is continuously adding schools.
Loudmouth clothing is made in 97% cotton and 3% spandex.
Fans can order at http://www.LoudmouthGolf.com