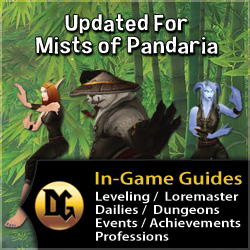 (PRWEB) September 26, 2012
The Mists of Pandaria update for Dugi's Ultimate WoW Guide has just been released and is now available for players of any level to use.
This guide, just updated for the Mists of Pandaria expansion, uses Dugi's famous questing software to help players earn even the most tedious achievements in a short amount of time.
The Loremaster achievement, long considered most prestigious achievement in World of Warcraft, tasks players with completing every quest in World of Warcraft. Most players never actually try to unlock this achievement since completing all the quests in game is not only difficult but it takes a lot of time.
Dugi's revolutionizes questing since this guide is actually a piece of software that helps players in game. Upon loading the add-on, you can turn it to achievements mode at which point it will show you the fastest path and exactly where to go to complete all the quests in World of Warcraft. This way, players who normally would not have time or not know where to go can actually complete the Loremaster achievement.
In addition, Dugi's new Mists of Pandaria achievements guide helps players unlock other achievements in World of Warcraft as well as providing guides to 600 for all of the professions.