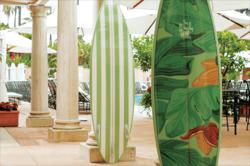 East and West have become relative terms after 25 years in the Golden State
Santa Monica, CA (PRWEB) September 28, 2012
This month Louey/Rubino Design Group marks a quarter century based in sunny Santa Monica creating award-winning brand identity solutions for corporations anchored throughout the world. Founded by native New Yorkers Robert Louey and Regina Rubino, the globe-trotting artists moved their studio to California after realizing it was the best location for serving both East and West clients.
"Many Americans enjoy the differences between our two coasts. But Robert and I had a different East and West in mind when we made the move. My life-long love of Asia took me to live and work in Jakarta and then Hong Kong twenty years ago. Now we also have an office in Beijing, as well as Hong Kong and continue to collaborate with businesses in Shanghai, London, Paris, Geneve, Abu Dhabi, and Cairo. Los Angeles is a central location that makes it easier to reach many distant cities," says Rubino.
Through the years, Louey and Rubino have designed for clients such as Hyatt Hotels Corporation and its new Andaz brand in Los Angeles, New York City, Napa Valley, Savannah and Shanghai. This year their Andaz Wall Street collaboration is included in the Condé Nast Travelers Gold list, which surveys 8 million people to determine 500 properties worthy of celebration.
Louey says East and West have become relative terms after 25 years in the Golden State.
"The words East and West are no longer mere travel directions for us. They now constitute our essential nature and core values. No matter who we work with, we bring a global consciousness and local awareness," says Louey.
The global view embraced by Louey and Rubino took root when they were students at New York City's High School of Art and Design. Following graduation, they worked at major prestigious design firms and then began their own studio that blossomed into an internationally acclaimed company.
California-based projects include the Beverly Hills Hotel, the Grand Del Mar, Andaz West Hollywood, Andaz Napa Valley, The Huntley Hotel, Kaufman and Broad, Rockwell International, Lexus Financial Services, LA Gear, MGM-Pathe Communications Co., PacifiCare and Nova Medical Products.
Rubino now also oversees IMAGE: Global Vision, while Louey steers Robert Louey Design. Together the designers have built an international reputation by blending emotionally stunning imagery with simple yet powerful language. Through the years, Rubino and Louey have won over 300 international communication arts awards while offering Fortune 500 companies and other major entities assistance in creating strategic identity systems that solve complex communications challenges. This often involves branding not just a corporate image or product, but entire environments. Their client list includes Kaufman and Broad, Beijing Yintai Property Company, Ltd., Mori Building Co. Ltd. and New World Development Company Limited.
For more information about Regina Rubino, Robert Louey, Karen Dacus http://www.imageglobalvision.com , http://www.robertloueydesign.com, http://www.loueyrubino.com or email reginarubino(at)imageglobalvision(dot)com, call (310) 998-8898 or write to 2525 Main St., Santa Monica, CA., 90405.