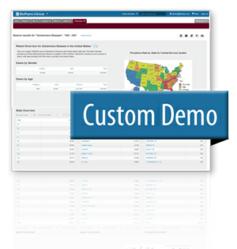 As escalating patient recruitment costs continue to drive trial budgets, finding investigators with viable patient pools matching your target demographics will save you significant time and money
Norwood, MA (PRWEB) September 27, 2012
BioPharm Clinical, already the only all-inclusive solution for global study feasibility, investigator selection and milestone timeline forecasting, is pleased to announce premium +Precision patient pool demographic data to significantly improve clinical operations.
+Precision provides patient pool data at the individual investigator level, enabling CROs and pharmaceutical companies to determine ideal United States locations for their trial based on patient availability and identify top investigators who are most equipped to meet enrolment goals. +Precision data include:

Segmented patient counts for 500+ diseases
Age group, specific geography and gender breakdowns
Disease prevalence by state, metro area and county
Rx prescription and drug administration quantity and duration
Schedule a personalized online preview of the BioPharm Clinical +Precision database.
"As patient recruitment costs continue to drive trial budgets, finding investigators with viable patient pools matching your target demographics will save you significant time and money," said Ruth McHenry, Managing Director of Infinata, which publishes of BioPharm Clinical. ""BioPharm Clinical customers are thrilled with the study feasibility and investigator selection support they receive from our comprehensive solution, and many have requested additional data that enables them to focus even closer on the patient pools from which potential investigators will recruit. With +Precision, we are pleased to provide our valued clients with a unique and custom solution that meets this demanding requirement."
+Precision provides essential value to find investigators who will meet your enrolment goals via a simple three-step process:
Define your patient – Assess study feasibility and improve budgeting and forecasting by determining if sufficient patients are available based on inclusion/exclusion criteria to sustain a trial
Find ideal site locations - Analyze disease prevalence down to local geographic levels to discover top sites based on patient counts and demographics
Evaluate and contact investigators – Use our detailed profiles to review indication expertise, clinical trial performance history, prescription data and current study/patient availability
+Precision patient pool demographic data are made available through the largest and most reliable national insurance claims database available.
About BioPharm Clinical
BioPharm Clinical is an exclusive support solution for clinical operations professions, providing real-time trial analytics and the most comprehensive database of sites and investigators. Clients benefit from proprietary calculations tailored to their particular trial requirements, detailed milestone timelines and more as they make critical study feasibility assessments and evaluate investigators for their global programs. Learn more at http://www.biopharmclinical.com.
About Infinata, Inc.
Featuring a comprehensive BioPharm Solutions Suite, unique Wealth Prospecting tools and innovative Custom Data Services, Infinata provides personalized technology solutions to turn information into insight. Infinata is a part of Mergermarket, a Financial Times Group company and a division of Pearson plc. To learn more, visit http://www.infinata.com.