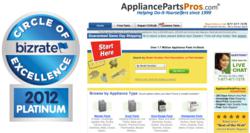 Of the more than 5,000 retailers in the Bizrate Insights network, AppliancePartsPros.com ranks in the top 1% for customer satisfaction.
Encino, CA (PRWEB) September 28, 2012
AppliancePartsPros.com (APP), the popular online appliance parts retailer, has been named a "Circle of Excellence" Platinum e-tailer by Bizrate Insights, the leading resource for shoppers and retailers. APP joins a prestigious group of only 18 retailers to win this award for six or more years out of the more than 5,000 retailers in Bizrate's network. It is also the only online appliance parts retailer to achieve this honor.
Since 2000, Bizrate Insights has awarded the Bizrate Circle of Excellence Award to those retailers who consistently gather customer feedback and earn ratings from their customers that are statistically significantly above the Bizrate Insights North American Retail Network averages for the award period. Bizrate Circle of Excellence Platinum winners represent the top 0.7% in customer satisfaction and also received scores of 9.0 and above across seven key satisfaction indicators which include On-Time Delivery, Likelihood to Buy Again, and Overall Satisfaction. APP's score achieved during the 2012 award period is 9.5.
"We are excited and honored to receive the Bizrate Circle of Excellence Platinum Award again this year, and to be recognized by Bizrate for six years in a row," says Roman Kagan, CEO of AppliancePartsPros.com. "This award carries great meaning for us, since everything we do, from employee recruiting and training to providing fast shipping and 24/7 customer service, is grounded in our philosophy of helping our customers to resolve their appliance repair issues quickly and easily."
APP's goal of empowering its customers by providing them with the part that will fix their broken appliance and equipping them with the knowledge to do the repair themselves – saving them money on costly service calls – starts with empowering and equipping its employees. The company created "Pros University," a state-of-the-art facility that ensures employees are not only initially trained, but also receive ongoing technical training with hands-on experience to better serve customers. It also regularly seeks employees' input on making the company better and promotes peer recognition for going above and beyond expectations.
In addition, APP acknowledges its motivated and dedicated customer service professionals for high scores achieved during their technical appliance training and year-to-date quality of service ratings as part of Customer Service Week. The company has taken pride in celebrating this congressionally and internationally recognized event every year. This year, starting next week on October 1, APP will celebrate its people with games complete with prizes in the style of 1970s and 1980s TV game shows as well as gifts. On Wednesday, October 3, an awards presentation and ceremony will be held during a catered lunch.
About the Bizrate Circle of Excellence
The Bizrate Circle of Excellence recognizes those online retailers within the Bizrate Insights Network who have demonstrated outstanding performance, as rated by their customers, throughout a one year period. In 2012, over 5,200 online retailers in North America were considered for the award. Winners consistently obtained feedback from their customers throughout the award year and received the highest ratings. Platinum winners received a rating of 9.0 or above in all seven key satisfaction indicators. The ratings are from direct feedback, collected at the point-of-sale and after the delivery of goods, from customers concerning seven key satisfaction indicators.
About AppliancePartsPros.com
AppliancePartsPros.com has helped millions of people fix their appliances since it was founded in 1999. With over 1.9 million parts in stock, award winning customer service open 24/7, and fast parts delivery (less than 2 days on average), the company makes it easy to find the right replacement part for broken appliances. AppliancePartsPros.com also provides "Ask a Pro" free tech support and how-to videos. Additionally, customers benefit from a 365 day no-hassle return policy.