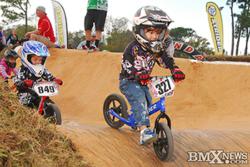 The Strider World Championship has quickly turned into the signature annual event for Strider Sports.
Rapid City, SD (PRWEB) September 27, 2012
Strider Sports International, developer of the patented STRIDER™ No-Pedal Balance Bikes, is bringing toddlers from around the world together for the Strider World Championship and Sarasota Kids Fest in Sarasota, Florida USA on the weekend of October 12-15, 2012 for four days of adventure on two wheels and off. This pinnacle race event will be held in beautiful Sarasota, Florida at the Sarasota BMX Track, 1590 North Tuttle Avenue, Sarasota, Florida and will showcase the skills of STRIDER enthusiasts from both America and abroad.
The Strider World Championship is an annual racing event that brings together STRIDER riders and their families from all over the globe for the culmination of all Strider Racing and fun family events. This year's festivities will also include on-site entertainment by the Radio Disney Road Crew. Come join in the camaraderie and good times.
The Strider World Championship on Saturday, October 13th will feature 2, 3, 4 and 5-year-old racers from North America, Asia, Europe, and South America. Racers can qualify and get extra track time before the big race by attending Friday's (October 12) Last Chance Qualifying practice to become eligible for the World Championship being held the next day.
Every racer will earn a medal for participation in the race and the top eight finishers in each age group will be awarded trophies during a finish line podium ceremony. At the end, there will be lots of big smiles, and the 2-year-old, 3-year-old, 4-year-old and 5-year-old World Champions will be crowned. The toddler trophy ceremonies are always a treat for camera-clicking parents.
The race entry fee is $25 for both the Championship and Last Chance Qualifier during pre-registration. The cost is $25 for the Championship and $10 for the Last Chance Qualifier for registration at the event. All participants will receive a goodie bag valued at over $50! Registration is limited to the first 200 racers. For more information or to pre-register, visit http://www.striderworldchampionship.com.
In addition to world championship racing, bring the whole crew to the Sarasota Kids Fest, which will include the Free Strider Adventure Zone, which is a safe and fun STRIDER bike test ride area for children 18 months to 5 years of age. There will be free loaner bikes and helmets provided at the Adventure Zone both days. Additional events that weekend include the STRIDER beach parade and an outing to the new Payne Park, the region's newest playground and skate park. The luxurious Helmsley Sandcastle Hotel will be hosting the World Championship guests. Located directly on Sarasota's world-renowned beaches, the Helmsley Sandcastle Hotel and Strider have teamed up to offer beachfront rooms, multiple swimming pools, free evening child care and open-air trolley rides to shuttle riders and family between the hotel and the track on both days. Special Strider rates start at $99 per night for families up to five. Rooms are limited so book your room early and mention "Strider World Championship" to receive your discount. For hotel details, visit http://www.HelmsleySandcastle.com.
"The Strider World Championship has quickly turned into the signature annual event for Strider Sports," states Strider Inventor and CEO Ryan McFarland. "We always believed the STRIDER was special in the way it taught toddlers how to ride a bike. Now with Strider Racing and the Strider World Championship, we see children as young as two years old developing sportsmanship and other valuable skills while riding and competing on two wheels. The second World Championship promises to build on last year's success. We are again grateful to all our partners and Sarasota County for helping us culminate the season in true Strider style — fun in the sun!"
"Sarasota is proud to host the 2012 Strider World Championship," said Carolyn Brown, Sarasota County Parks and Recreation General Manager. "Sarasota is well-poised to host an exciting weekend of Strider family fun with America's number one beach, a vibrant downtown, and the first purpose-built, 'no-pedal' BMX race track in the country."
Special thanks to our partners:
Suncoast Charities For Children (http://www.suncoastcharitiesforchildren.org)
Sarasota County Sports Commission (http://www.sarasotafl.org),
Helmsley Sandcastle Hotel (http://www.helmsleysandcastle.com),
USA BMX (http://www.usabmx.com), and
Sarasota BMX (http://www.sarasotabmx.com).
About the Strider World Cup™
The Strider Cup™ and Strider World Cup™ events are play experiences designed to let toddlers and young kids age 18 months to five years old explore the world on two wheels. Whether it is test riding a STRIDER No-Pedal Bike for the first time or racing STRIDERS on a dirt track with other toddlers, Strider World Cup™ events have something for every family interested in giving their child a head start. Balance, coordination, and confidence all develop naturally when children experience group play and friendly competition on STRIDERS. For more information, visit http://www.StriderLife.com.
About Strider™ No-Pedal Bikes
If your toddler can walk, your toddler can rider a STRIDER™. STRIDER No-Pedal Balance Bikes were developed specifically to help toddlers and young children learn balance and coordination BEFORE pedaling. The simple, no-pedal design allows toddlers to learn to ride on two wheels, avoiding tricycle tip-overs and training wheel wobbles, and instilling considerable confidence and stellar bike handling skills sure to last a lifetime. Strider No-Pedal Balance Bikes encourage the development of spatial awareness, balance and basic motor skills so that all children can reach their maximum riding potential faster, better and safer. Available at http://www.StriderSports.com.
About the Strider Adventure Zones
STRIDER Adventure Zones give kids a chance to test ride a Strider and play with other kids in a cordoned off area. This safe and friendly environment encourages children as young as 18 months old to explore mobility on two wheels, experience the challenge and thrill of riding a STRIDER on unique terrains and obstacles, improve bike handling skills and further develop balance, control, motor skills and confidence. STRIDER Adventure Zones are free events that allow children open riding time, time to socialize, play, practice tricks and generally just have a good time.
About Strider Sports International, Inc.
Strider Sports International, Inc. designs efficient, no-pedal balance bikes that encourage Toddlers to ride, learn, and explore the world on two wheels. Founded in Rapid City, South Dakota in January 2007, Strider Sports is a company full of passionate riders of dirt, mountain, street, and road bikes. At Strider, we love riding bikes, and we love inspiring kids to ride. Our mission is to build lightweight, efficient, all-terrain bikes that develop two-wheeled balance, coordination, and confidence in children. The goal of Strider Sports is to simplify a bike to its essence, so that proper size, weight and ease-of-use combine to eliminate any fear of riding; instilling confidence in young new riders. The patented STRIDER™ No-Pedal Balance Bike is now distributed in over 35 countries. To learn more and to find STRIDER Bikes in your area, visit http://www.StriderBikes.com.