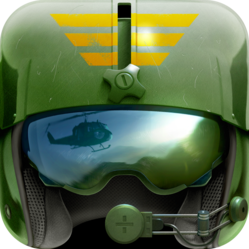 Minsk, Belarus (PRWEB) September 28, 2012
After disobeying orders from his commanding officers, an ace pilot faces a dishonorable discharge and finds the only way to return to the skies is by going underground. By performing services for criminal kingpins, the pilot must rebuild his reputation in order to once again retake the skies.
In Pilot's Path, the player will be able to explore 50 islands over two vast locations. Additionally, each map is randomly generated, so every new game is a unique experience. Beautifully rendered picture cut scenes and detailed character design create an engrossing world, and the joystick controls are intuitive and unobtrusive so the player is never pulled out of the experience. The player will be able to perform plenty of missions and search exotic locations for goods to make extra money. The player's helicopter is also fully upgradeable through the mechanic shop. Using coins earned from missions, exploration, or in-game purchase, the player can improve hull integrity, fuel and cargo capacity, maximum altitude, speed, and radar capabilities.
The game was built from the ground up to turn your iPad, iPhone or iPod Touch into a gaming console. As such, the game is meant to be best enjoyed by playing it on a big screen while using another iOS device as a remote controller. It is maximized for retina displays, iPhone 5 and full HD displays out of the box and can also be experienced on a TV or projector (HDMI, VGA, RCA cables, and AirPlay supported)
Players will be able to fly their way to glory today for $0.99 from the App Store.
For more information, please see the media kit located here: https://www.dropbox.com/sh/l0zxbqa8p6cmhp5/bxwyqfKaoA
To download the app, please click here: http://itunes.apple.com/us/app/pilots-path/id537251466?ls=1&mt=8
Follow Happymagenta on Facebook and Twitter for more information about Pilot's Path and other releases.
# # #