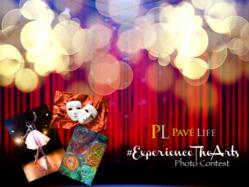 Show us how to Experience the Arts in your area with our #ExperienceTheArts Photo Contest! - Natasha Patel, Senior Director of Marketing
Darien, CT (PRWEB) September 27, 2012
Pavé Life, the premium arts entertainment deals site, has paired with Facebook, Instagram and Twitter to launch it's new #ExperienceTheArts Photo Contest. The contest runs from now until the end of October and gives participants the chance to win up to $250 worth of Pavé Life prizes!
There are three ways to participate in Pavé Life's new contest:
Option 1: Simply visit Pavé Life's Facebook page and select the #ExperienceTheArts tab. Participants can submit a photo from Facebook or upload one showing how they can experience the arts in their area.
Option 2: Via Instagram: Submit a photo via Instagram and tag it with #ExperienceTheArts and @Pave_Life
Option 3: Via Twitter: Participants can also enter via Twitter. Just tweet a photo and tag it with #ExperienceTheArts and @Pave_Life
Participants and their friends can vote for their favorite entries. There is no limit on how many entries a participant can submit.
The top 3 entries will be awarded $250, $100, and $50 of Pavé Life credit for first, second and third place, respectively. All contest entries must be in by midnight of October 31st, 2012 to be eligible.
Pavé Life (http://www.pavelife.com) is the premier national source for discounts on premium arts entertainment. The exclusive site features up to 65% off on tickets to operas, symphonies, plays, and other cultural outlets as well as the ability to add fine dining options in the area. New and current members should visit the site for the latest deals on arts entertainment.
For more information and full terms and conditions, visit Pavé Life's Facebook page.