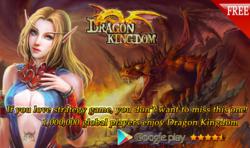 new game version
Beijing,China (PRWEB) September 28, 2012
X6 Game recently announced that they will release latest version of Dragon Kingdom. Players of Dragon Kingdom couldn't wait for the new content of the latest version since the game updated for the first time. But from now on , every player could enjoy the exciting experience of the new game version as it will bring the players a series of new features:
1.Legendary hero recruitment is now available
You may recruit legendary heroes in legion tavern.
2. Reputation system
You may get reputation from exchanging honorary gems and reputation scrolls.
Reputation can be used to purchase equipments and recruit legenday heroes.
3.Legion improvements
Legion buildings are open now. You can sign in and do donation to level your legion up.
4.Hero transfer system
Old heroes can transfer experience and growth value to new heroes.
5.Watch Tower adjustments
Make adjustments about power bonus in Watch Tower and the rate of soldiers recovery.
6. Equipments enchanting system(will be released in two weeks)
Enchant your equipments and get three random stats..
7.New instance: the Grave of Dragon(will be released in four weeks)
It's more difficult than on the floor 100 of ghost ship.
Old players only need to update the game version, and new players need to download from Google play, then you can experience the pleasure of more excited game.
Please visit official website of the game for more information: http://www.x6game.org
Please send suggestions and comments of the game to the game forum: http://www.x6game.org/forum
About X6 Game
X6 Game, one of the top mobile game developers in China which was founded in 2005, is dedicated to the development of mobile games.
70 titles of various genres have been released by X6 Game since the date of its foundation, including the famous strategic game Dragon Kingdom, the fantastic simulation game Movie Town and Kawaii family game Pet Life, which are global oriented. X6 Game has received several media awards in the last 7 years, which represent the common acceptance from both users and partners. The company is currently actively seeking a share in the global market.
Follow us at
X6 Game Facebook Page:http://www.facebook.com/X6Game
Dragon Kingdom Facebook Page: http://www.facebook.com/Dragon.Kingdom.community
Twitter:https://twitter.com/X6Game
Marketing&cooperation Contact:marketing(at)x6game(dot)org