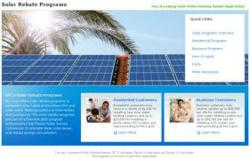 $15 Million will go in 15 minutes
South Florida (PRWEB) September 27, 2012
PeakSolar.com, a Boca Raton solar developer and integrator is currently looking for owners / and developers of commercial sites within the FPL (Florida Power and Light) service area that would be interested in dramatically reducing their electric bill and add value to their pre existing property. This would be accomplished through the development of a solar production facility on the top of the commercial real estate building or land. The ideal candidate will have at least 6000 square feet and roofing materials other then tile.
Peak Solar's expertise in the local FPL service area allows it to maximize the return on investment, which currently is paying for itself in six years. Besides the rebate, corporate customers will get 30% back from the federal government and will be able to depreciate their equipment. Once again Peak Solar handles all paperwork processing.
PeakSolar.com and Coronado Solar have installed numerous jobs throughout Florida. The most recent installation was a 50kw system on Stuart Jet Center, in Stuart, Florida.
The development of these systems are what Peak like to call 'set it and forget it.' Once turned on these systems require little to no maintenance and constantly working to save the corporation money.
For more information on how to apply for a Peak Solar development package please contact Director of Development and Engineering:
John Bucher,
305-791-6202 or
JrBucher(at)PeakSolar(dot)com
About Peak Solar:
PeakSolar.com is an international expert in solar development and engineering as well as a leading supplier of photovoltaic components and solar kits. Providing turnkey PV systems for residential, commercial and industrial applications. Based out of Boca Raton, Florida Peak Solar has developed systems ranging to the home consumer, corporate energy and solar power manufacturing development parks. Peak Solar has developed over 100 millions dollars worth of energy development in the United States alone.