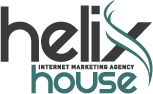 First and foremost our job within the community is to educate companies on proper online strategies...
(PRWEB) September 27, 2012
Helix House has announced they will be providing marketing consultation services at no cost to all industries through the month of October. Normally a paid service, the team at Helix House has decided to open their doors in order help educate the community. "We feel that there is a lot of misinformation being distributed concerning web based marketing, and more specifically, Search Engine Optimization," said Michael Donato, managing partner at Helix House, speaking from their Tempe office location. "First and foremost our job within the community is to educate companies on proper online strategies, while leading them in the right direction to accomplish their online goals." Michael continues, "Whether our firm's industry leading production team assists in reaching those goals is not our primary focus, imparting on companies within our communities the necessary knowledge to make an informed decision will always be our number one priority."
A commitment to local businesses has always been a focus for Helix House. Founded in 2006, Helix House has shown time and time again that their loyalty lies with their clients and community, not with their bottom line. This mission has proven not only to show success for Helix House clients, but to the firm as well. "We truly appreciate every opportunity we have been given to help businesses within the communities we serve," stated Alona Rudnitsky, co-founder of Helix House, "and we feel that providing our consultation services at no cost is another way to give back."
Besides providing one-on-one consultation services free of charge in the month of October, Helix House has also planned a round of free to attend "Lunch and Learn" seminars. "The Lunch and Learns are a great way to not only get to know more about internet marketing, they are also an opportunity to meet other business owners within your community," adds Michael. "We ask that current clients and community business owners speak to their local Helix House team members to receive more information on our Lunch and Learn schedules and topics."
More information on these October events and complimentary internet marketing consultation services can be found at http://myhelixhouse.com, or can be obtained by calling 800.588.2188.