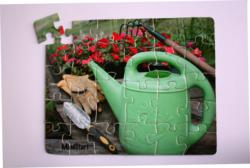 "I have tried many things to engage my husband in activity. I took a chance an sent for the puzzles. What a joy to see him working hard to put the puzzles together," Home Caregiver.
Minneapolis, MN (PRWEB) September 27, 2012
Dementia, an umbrella term for conditions that cause difficulty in thinking, such as Alzheimer's disease, currently affects 5.4 million Americans (Alzheimer's Association Facts and Figures 2012). As confusion increases for the person, they often become more inactive. This can start a cycle where the person loses skills faster, because they are not using the abilities that they still have. The new MindStart 26-large piece Garden puzzle is the latest addition to their line of brain stimulating dementia activities, designed to help keep the person with dementia active.
Working on jigsaw puzzles has known benefits. It activates both halves of the brain: the left brain, analytic side, sees the separate pieces and how they might fit together logically; the right brain, creative side, sees the big picture and works through intuition. Exercising both sides of the brain enhances the connections between them. Also, dopamine, a brain chemical that increases learning and memory, is produced when puzzle pieces are successfully fit together.
According to a 2012 Cochrane Review of dementia research studies, the cognitive stimulation that occurs while doing activities, such as puzzles, provides a beneficial effect on the memory and thinking test scores of people with dementia. This was a benefit that was at least as good as medications, if not more so.
The MindStart Garden puzzle, along with their other 26 and 12-large piece puzzles are designed specifically for people with dementia. The puzzle pieces are large, and the number of puzzle pieces is less, compared to a traditional puzzle. The Garden image is vibrant and the flowers and gardent tools in the image help stimulate memories and topics of conversation. In addition, the image has less detail, making it more obvious for the person of how adjacent pieces will fit together.
MindStart designs various kinds of Alzheimer's activities, including other styles of large piece puzzles, games, and life-story books. The new Garden puzzle is another product helping to fulfill the company mission of bringing cognitive stimulation, engagement, and joy to the lives of people with dementia and their caregivers.
MindStart is a small, family owned business, started by an occupational therapist to provide activities for individuals with Alzheimer's disease or other dementias, while providing support and education for caregivers. MindStart works with dementia care experts and USA companies to design and manufacture adapted, yet dignified, activity products that are based on common hobbies and themes of everyday life and that provide cognitive stimulation for every stage of the dementia disease process.