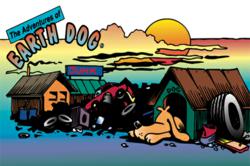 As a special back to school promotion The Earth Dog Story's new app, is now priced at $2.99, from $4.99, for a limited time only
Bethesda, Md (PRWEB) September 27, 2012
Apple's launch of its iPhone 5 smartphone generated strong first-weekend sales of 5 million devices, boosting the market for global mobile devices and giving consumers more ways to access recent e-book release The Earth Dog Story.
With release of the iPhone 5, e-book readers can use Apple's upgraded smartphone technology to learn about environmental superhero Earth Dog in a featured e-book selection available for all mobile devices.
Apple reports the iPhone 5 sold out in stores over the weekend, easily topping sales from last year's iPhone 4S launch, as Apple works hard to meet consumer demands.
"While we have sold out of our initial supply, stores continue to receive iPhone 5 shipments regularly and customers can continue to order online and receive an estimated delivery date. We appreciate everyone's patience and are working hard to build enough iPhone 5s for everyone," Apple's chief executive officer Tim Cook said in a press release.
And despite reports that Apple failed to meet some analysts' iPhone 5 sales expectations of 8 to 10 million devices, other analysts note that opening-weekend sales of 5 million iPhone 5s is a major achievement, calling the much-higher sales predictions unrealistic. In addition, Apple has yet to deliver many pre-orders that fueled the high expectations.
The Earth Dog Story e-book is featured on Apple iTunes and Amazon Kindle. Young readers are turning to e-books in record numbers, and e-book readership now surpasses that of traditional books, according to reports.
Environmental superhero Earth Dog educates young people around the world about environmental issues affecting their planet. He teaches problem-solving skills through understanding and cooperation to students for whom the environment is a top concern.
The Earth Dog Story was first published as a storybook in 1992, then in 1996 in cooperation with the U.S. Department of Energy as a part of its Environmental Out Reach Program with Weekly Reader. Now, the popular children's environmental superhero is making his comeback in app and e-book format with auto-narration to appeal to children of all ages. Earth Dog® became available as an app in iTunes and as an e-book, titled The Earth Dog Story, just in time for Earth Day 2012
As a special back to school promotion The Earth Dog Story's new app, is now priced at $2.99, from $4.99, for a limited time only and hopes that many young people who have heard of the environmental concerns and global warming will be inspired to turn to the app to learn more. The new app has now officially launched and can be purchased through iTunes or Amazon Kindle or through the Earth Dog website.
EarthDogStory.com