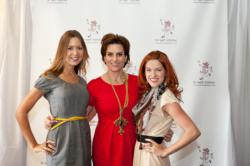 "I strongly believe you learn best by getting hands-on experience and that is what we are providing at Uncensored! this year," - Marley Majcher
Los Angeles, CA (PRWEB) September 28, 2012
They say you learn best by doing, and that is the main theme behind this year's Uncensored 2012! – Apprentice Style– the signature conference of celebrity party planning firm, The Party Goddess! Marley Majcher is the founder and CEO for the company that has built a reputation as the party planner to Hollywood's hottest celebrities and corporate America's biggest power players. In addition, she is the author of successful business book "[But Are you Making Any Money?"
Once a year, Majcher shares her secrets to success with Event Planners from around the United States. . This intense three-day hands-on conference is designed for event planners to help them refine and define their client base, increase their brand through solid PR and social media skills, cut their marketing budget while shocking them with incredible results, explode their network beyond boundaries and inspire, inspire, inspire with real-world ideas that work.
[Uncensored 2012! is set for Nov. 5 – 7 at the Omni Hotel in Atlanta, Georgia. This energetic conference features non-stop programs by Majcher and her superpower team of passionate speakers and presenters. They will share industry secrets to boost their event planning business to the next level and beyond.
"I strongly believe you learn best by getting hands-on experience and that is what we are providing at Uncensored this year. Our theme is The Celebrity Apprentice! Borrowing from the popular projects and tasks seen on the popular show, the participants will team up to create proposals, PR plans and social media strategies," explains Marley Majcher, Founder of "The Party Goddess!" and Uncensored! 2012.
The Party Goddess! has an A-list client list that includes Sofia Vergara, Kelly Preston, Leona Lewis, Jenna Elfman, Laila Ali, Pierce Brosnan, Britney Spears, Katherine Heigl, Snoop Dogg, Jennifer Love Hewitt, and many more. During the dynamic three-day event, Majcher's agenda includes powerhouse hands-on projects "Apprentice Style" to teach event and party planners how to:

Create incredible buzz with a PR Plan that will have everyone talking about their next party
Develop a social media strategy to bring in followers, fans and clients supporting their company and their cause
Prepare a budget plan and learn to price for profit.
Compete for a shot in the "Board Room" stacked with fabulous prizes.
Sponsors and Presenters for Uncensored! 2012! Include Godfather Films, Omni Hotels and Resorts, Cookie Advantage, Pure Gear, TDR Brands and Stylish Consignments, Tami Forero of Forte' Events, Jennifer Horsley of Habitat Events, Heather Vreeland of Occasions Magazines, Kristi Sanders and Lisa Kraus of Plan Your Meetings
To sign up for Uncensored 2012! or to get more information about the three day conference, visit http://www.ThePartyGoddessUncensored.com.
About Marley Majcher
Marley Majcher is the author of But Are You Making Any Money? and the CEO of The Party Goddess!, a nationally acclaimed full-service catering and event planning company that originates all aspects of large scale functions for A-list celebrities, social and corporate clients alike. Majcher has also had numerous appearances on every major television network including ABC, CBS, ABC, MTV, E!, HGTV, Style, Bravo, and FOX, as well as featured articles and interviews in such publications as The Wall Street Journal, Chicago Tribune, The Los Angeles Times, Fortune, People, OK!, Us Weekly, InStyle, BusinessWeek, Entrepreneur Magazine, and a list that grows by the day. For more information, visit MarleyMajcher.com.