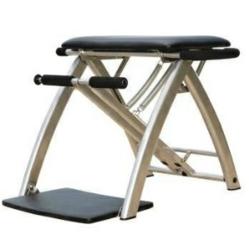 Strengthening the knee has to do with grounding the feet and shins down, while the thigh bone pulls up and connects into the hip, allowing the power of the pelvis to function on the legs so that the body stands strong to hold the weight of the torso.
New York, NY (PRWEB) September 28, 2012
Knees and skis are not often perfect partners, but the time and attention spent getting these joints ready for the challenge of skiing can ingrain better functioning habits that will keep knees healthy for a lifetime. Working with the Pilates Method and particularly exercises performed on the Pilates Chair can help.
Knee extensions are one of the most challenging movements to perform in any exercise regime. It's crucial to learn how to perform both proper knee bending and extending for support and balance, not to mention avoiding a ripped ACL, a torn meniscus or tendonitis.
There are ways to use the Pilates Chair for knee extensions that grant more ease than the push and pull mechanisms found in gyms and even better support than the Pilates reformer. The way the chair's pedal bar is constructed allows hamstring-strengthening exercises to be performed from both sitting and standing positions, to find a full, but not-locked knee extension. Then engage in the more-challenging rising up and easing down on the pedal with fully-lengthened legs in order to work on balance. One of the movements learned in Mind Your Body's Pilates Chair Sampling is the standing leg series which informs the body how to get the pelvis on top of the leg.
Gail Giovanniello, Pilates expert and owner of Mind Your Body Fitness says: "One of my key teaching phrases is ground down, lengthen up. When I ski for five hours in one day, four consecutive days, I do not experience any knee pain. I can deepen my knee bend and twist down the mountain, pain-free all week long because my legs have the strength to handle such demand."
An instructor may say not to hyperextend or lock the knee, but many people when told to be careful of overextending then don't fully extend either. "Keep a soft knee" is a popular cue, but that's not quite it either. The trick is to not push forward and pull back, which tightens the hamstrings, but to ground down and lengthen up. This strengthens the hamstrings and protects the knee joint - and this is completely different - and much more healthy than either straightening or softening the knees - especially when skiing.
Mind Your Body is located in NYC on Lexington Avenue in the 90's. Gail Giovanniello has helmed her two fitness studios in this charming neighborhood for many years and celebrates the cool autumn air hosting a pre-ski season Pilates Chair Sampling on Thursday, October 18th from 6-9 PM.
The Pilates Chair Wine & Cheese Sampling will be held at the newly renovated and expanded location of Mind Your Body Fitness at 1370 Lexington Avenue between 90th & 91st Streets NYC
Complimentary chair exercises as well as local wine and artisan cheeses. Call 212- 426-7960 for info. http://www.mindyourbodyfitness.com
See the complete Mind Your Body Fitness Group Pilates Reformer Class Schedule:
Over 40 Classes to Choose From on Reformer, Tower, Chair and Mat
Each Class with Five or Fewer Students and Available Seven Days a Week
Complimentary press previews with Gail Giovanniello can also be scheduled for alternate times.
Press contact: Tim Driscoll 212-647-8878