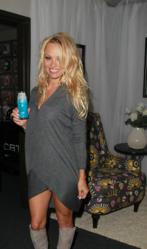 I only want this coconut water in my trailer from now on
West Hollywood, California (PRWEB) September 27, 2012
Beyond Coconut Water is making waves in Hollywood. The Australian owned brand founded by Russell Lipton is rapidly becoming a favorite of celebrities.
American stars such as Pamela Anderson, Kirstie Alley, Justin Beiber and Pitbull have discovered why Beyond Coconut Water is the hydrating drink of choice for Aussie celebrities in Hollywood, including models Kasia Z, Ashley Hart and Jess Gomez and singer Delta Goodram.
Beyond Coconut Water was a key sponsor for the USA season premiere of Dancing With The Stars season 15, All Stars. Viewers were reunited with the All Stars, and their air-brushed tans, sequins, and familiar faces on Monday night as the premiere kicked off with what is sure to be one of the most competitive seasons ever! Viewers were also treated to performances by Justin Bieber and Pitbull.
Everyone on the set enjoyed discovering Beyond Coconut Water, loving its taste as well as how it is good for you. Beyond Coconut Water contains the five essential electrolytes that gives the body everything it needs to stay hydrated and perform at your best.
Pamela Anderson, who is an avid coconut water fan, was quoted saying "I only want this coconut water in my trailer from now on". Despite bringing her best efforts to Monday night's premiere, Anderson was eliminated in Tuesday's verdict show but despite this, she is delighted that she has the consolation of a lifetime supply of the popular drink.
Helio Castroneves, who is the only active driver to have earned the distinction of being a three-time winner of the Indianapolis 500 and the only race car driver ever to become a "Dancing with the Stars" Champion, was so excited by the product, he wants to share it with his team and have Beyond Coconut Water as a sponsor for them.
With Beyond Coconut Water, which only launched in the US this month, building such a following, Australia's leading coconut water brand is well on the way to being a firm favorite in the USA.