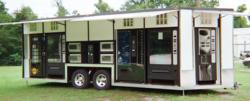 "We are excited to introduce the mobile marketing turn-key solution of mobility, flexibility and automation packaged in VendaPromos trailers" said Annette Nolan, CEO of Carts Blanche, LLC.
Mobile, AL (PRWEB) September 29, 2012
VendaPromos marketing trailer allows the customer to engage and interact with brands and products through the sensory experience of self-serve automation which is the latest concept in experiential marketing.
Mobile event marketing targets specific individuals or groups at Specialty Events, College Campuses, Stadiums, Festivals, Fairs and Musical Venues both regionally and nationally to introduce new products, establish taste tests and gather impressions from potential customers.
VendaPromos is uniquely designed as a reconfigurable, customized mobile automated trailer used for product marketing, sampling and promotions and branding.
VendaPromos leverages new technologies in robotic retail to deliver a new and exciting interactive experience to targeted customers. Many different products can be vended: food, shoes, toys, books, tools, clothing, make-up etc.
Mobile real-estate, logo wrapped, creates a rolling billboard that generates thousands of impressions creating brand loyalty.
"There has never been a more viable time to introduce a futuristic marketing trailer to an industry seeking new dynamic ways to promote products" says Nolan.
About Carts Blanche, LLC
Carts Blanche, LLC, based in Mobile, Alabama, was founded in 1995 by Annette Antoine Nolan. Originally, Carts Blanche designed and manufactured wooden push carts and kiosks. "VendaPromos" is the latest product launched by Carts Blanche. VendaPromos is a mobile automated trailer equipped with up to nine built-in automatic vending machines. Once on location, both sides of the trailer pneumatically raise creating awnings that expose the ready to operate marketing venue. For more information please go to http://cartsblancheonline.com