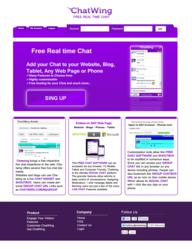 Jacksonville, FL (PRWEB) September 28, 2012
Tumblr, one of the easiest blogging platforms created, is still attracting thousands of users despite the rate of competition online. Based on global reviews, people love Tumblr because putting up entries is easy, and interesting photos can be discovered everyday. The Chatwing Development Team has just launched a website chat box that can help Tumblr beginners create a potent subscriber base. The Chatwing app utilizes the elements of social media, connectivity, visibility enhancement, and even admin control.
Through Chatwing's social media integration, users can log in with their Facebook or Twitter accounts. This has been useful for social media marketers, or for those people who are creating communities, like Facebook groups. Chatwing's free chat box also allows high functionality; admins can set up profanity filters and delete messages in one click. They can even ban members that can offend other blog visitors and threaten the rank of the blog. Another great and useful feature is Chatwing's unlimited chatbox creation. Now, admins can create unlimited chat boxes for all of their blogs and websites.
Chatwing's free chatbox has been introduced in other prominent blogging communities, such as Typepad and Wordpress. According to the data research of the Chatwing team, the chat app is gathering thousands of sign ups per day. Many bloggers were satisfied with the visibility enhancement that was offered by the Chatwing tool. Since Chatwing app is also customizable, the users were able to create different styles for their chat boxes. The Chatwing team has recently advised bloggers to modify their shout boxes so that it will fit the theme of their blogs.
The Tumblr community will continue to grow, as many people are seeing its niche potential. Chatwing's dedication to these new users will also extend fast, so they will be able to use a reliable application. The Chatwing team is also working hard to bring in new features that will make the chat app more reliable than ever.
About Chatwing.com
Chatwing.com specializes in the new field of website chat. Over years, the Chatwing team has introduced live chat widget for hundreds and thousands of blogs. The Chatwing application bridges people from many parts of the world, creating global synergy through the Internet. The shout box can be installed in just seconds, and it can be used for varying purposes such as leisure and Internet marketing. It also allows a user to customize the size, color, and name of the widget. Chatwing is 100% free for everyone.