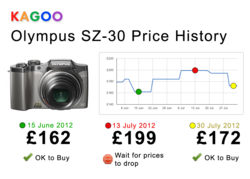 By knowing when to buy, consumers can save 10% or more on electricals
London, UK (PRWEB UK) 27 September 2012
A new price tracking website has found that online stores are changing their prices on gadgets and electricals as frequently as every day.
Prices on electricals are going up and down all the time meaning that consumers are often unknowingly paying over the odds even if they think they found the cheapest price. Many retailers are changing their prices to maximise profits on a daily basis by using sophisticated algorithms to respond to supply, demand and competition.
Consumers can now fight back with a new price tracking website, Kagoo.com. The independent, free to use site allows consumers to see the price history of each product and each retailer selling that product. The site analyses the price history and tells consumers whether now is a good time to buy or if they should wait. Consumers can follow products to receive price alerts by email. Consumers will also be notified when new voucher codes are released for that product.
Research by Kagoo.com has found that price movements of up to 10% per week are not unusual and that it is surprisingly common for retailers to increase rather than decrease their prices. Existing price comparison sites will show consumers the best price today for a product, but Kagoo.com is the only site to show consumers whether the price is historically high or low and help them to decide whether to buy now or wait.
For example the best price of an Olympus SZ-30 camera on 15 June 2012 was £162. Four weeks later, the price had increased by £37 to £199, an increase of over 20%. Kagoo's price tracker analysed these price movements and determined that it was likely that the price would drop within the next couple of weeks, giving a recommendation to wait. Two weeks later the price had dropped back to £172, saving the buyer £17 if they had decided to wait.
Co-founder of Kagoo.com, Matthew Wilson explained "When we started to research online pricing we noticed that prices were changing much more often than we expected, sometimes on a daily basis. We realised that in order to get a great deal it is important for consumers not only to know what and where to buy, but also to know when to buy. From there the idea to setup a price tracking website was born. We wanted to create an impartial website that tracks prices across all the big and small retailers in order to provide consumers with the best possible information to decide when and where to buy.".
An additional benefit of the website is that it can also be used by consumers to see if they are due money back on lowest price guarantee offers. After buying a product with a lowest price guarantee, consumers can just follow that item on Kagoo.com and enter the price that they paid. If one of the hundreds of retailers tracked by Kagoo.com then offers the product at a cheaper price in the future, the consumer will be sent a notification email. The sonsumer could then contact the retailer where the product was purchased and might be eligible to a refund in line with the retailer's price match guarantee.
Kagoo.com was launched in public beta in January 2012 and now tracks prices on over 100,000 products. The site collects and analyses thousands of pieces of data every day including new and used prices, reviews and vouchers. The site is currently focused on popular consumer electronics such as cameras and televisions with plans to roll out the service to most types of electricals.
About Kagoo.com
Kagoo.com is a price tracking website for consumer electricals that helps consumers save money by helping them decide when to buy.
The site was founded by Matthew Wilson, 37, previously a property developer and Thomas Karcher, 37, previously an architect. Just over a year ago they decided that they wanted to setup a new internet business and decided to teach themselves how to code in order to develop the site themselves. Using their own money and working from temporary offices, cafes and home they learnt how to code and went about developing the price tracking website.
Kagoo.com is looking to set itself apart from existing price comparison sites by aiming to answer the questions of what to buy, where to buy and when to buy, the combination of which are not available on other sites. The founders believe that only by understanding the answer to all three of these of these questions can the consumer be sure of buying the right product, from the right supplier at the best price.
For information about Kagoo.com, please visit http://www.kagoo.com or contact Matthew Wilson at matthew(at)kagoo(dot)com, or call 07855 785215.