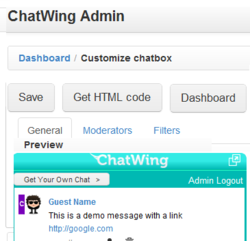 Boston, MA (PRWEB) September 28, 2012
Every year, the lifestyle niche is growing because of trends being discovered every now and then. This fact is included in the comprehensive research done by the Chatwing Development Team. Recently, Chatwing has launched a social chat box that can help lifestyle writers understand the niche easily and connect to larger groups of people. The Chatwing chat app has simple mechanics that can be understood by everyone and also acts as a visibility enhancer for bloggers and website owners.
Most lifestyle writers own one or two blogs nowadays, because blogging is one of the easiest ways of relaying online information. Chatwing's free chat box can be installed to a blog or website in just few simple steps. The first step is domain and email registration. After that, the user can now proceed to his dashboard wherein he can put unlimited chat boxes of his choice. He can also start selecting the optimum shoutbox style. Aside from choosing the style, the user can also modify the shoutbox's appearance so that it will appear classier and will even fit the theme of his blog perfectly. Once everything has been completed, the user can now retrieve the HTML code needed and he can embed it to his blog.
Few months ago, the Chatwing team has introduced the free shout box in famous blogging communities such as Livejournal and Typepad. The Chatwing team has observed that lifestyle writers are also active in those blogging communities. Other active niches are technology, gadget, application tips, guest blogging, current events, and many more. The Chatwing chat app is useful in many instances like interaction and idea generation.
One of Chatwing's main goals is to help all niche writers create large subscriber networks and online presence. The developers understand that achieving this goal may take a sufficient amount of time. Also, to keep the Chatwing chatbox swift and efficient, the dev team will continue introducing further developments.
About Chatwing.com
Chatwing.com specializes in the new field of website chat. Over years, the Chatwing team has introduced live chat widget for hundreds and thousands of blogs. The Chatwing application bridges people from many parts of the world, creating global synergy through the Internet. The shout box can be installed in just seconds, and it can be used for varying purposes such as leisure and Internet marketing. It also allows a user to customize the size, color, and name of the widget. Chatwing is 100% free for everyone.