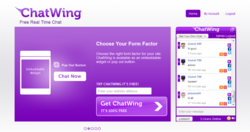 Houston, TX (PRWEB) September 28, 2012
The Chatwing Development Team has recently expanded to the Google+ community by introducing a blog chat box capable of global communication. This chat app is loaded with simple but useful features such as social media integration, versatile form factors, easy customization, and quick installation process. Additionally, Chatwing users may add unlimited chat boxes and moderators at any point of time. The Chatwing app also operates on a free platform, benefiting thousands of users.
Chatwing's free chat box has been recognized in many online communities up to date. This is because of the application's social media advantage. Chatwing visitors can log in with their Facebook or Twitter accounts, inciting social media expansion on a daily basis. This is also the reason why a lot of social media marketers have been using the Chatwing chat app. A single Chatwing chatroom can also accommodate one thousand users, raising the standards of blog communication.
Despite the competition of chat apps, the Chatwing free shout box has achieved a decent rate of popularity in the Google+ community. Many Google+ users were able to utilize Chatwing app's features, letting them find new friends and acquaintances. The Chatwing app has also become useful for Google+ users who are maintaining blogs and personal websites. In fact, the Chatwing shoutbox has been first introduced in blogging sectors like Wordpress, Typepad, and Livejournal, so bloggers are really parts of the market.
To further help people communicate effectively, the Chatwing team is planning to widen the strategic expansion of its free chat widget. In this way, many people will be able to use the Chatwing chat app regularly and without hassles. Aside from that, bloggers will also have the opportunity to create stable subscriber bases to increase their online presence.
About Chatwing.com
Chatwing.com specializes in the new field of website chat. Over years, the Chatwing team has introduced live chat widget for hundreds and thousands of blogs. The Chatwing application bridges people from many parts of the world, creating global synergy through the Internet. The shout box can be installed in just seconds, and it can be used for varying purposes such as leisure and Internet marketing. It also allows a user to customize the size, color, and name of the widget. Chatwing is 100% free for everyone.