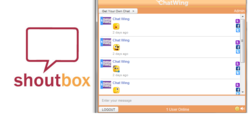 San Francisco, CA (PRWEB) September 29, 2012
Blogging about sports is now a trend followed and monitored by thousands of individuals across the Internet. This fact is based on the growing numbers of websites created for the niche of sports and everything about it. The Chatwing Development Team has recently observed that the sports niche in Bligoo community is growing by a huge percentage everyday. To help Bligoo sports bloggers create a reliable fan base, the Chatwing team has introduced a website chat box capable of global online communication. The Chatwing app is known for its simplicity and usability in many instances.
Installation of the Chatwing free shout box is rather easy and doesn't take much time. First, the user must register his blog or website's domain name. Following that, he can now proceed to the form factor selection method. With this, he can select from Chatwing's three basic form factors: chatbox style, pop-up window, or vanity URL. Once a form is selected, the user can now access the dashboard—he can now start editing the color, size, and title of his free chat box. He can also add unlimited number of chat boxes, especially if he is maintaining two or more blogs.
The Chatwing team has also planned to expand in other niches of Bligoo. Other famous niches observed by Chatwing are fashion, hobbies and crafts, humor, food, travel, welfare, human interest, and relationships. The Chatwing chatbox will also be subjected to various developments in the coming months.
One of Chatwing's main goals is the improvement of all blogging niches. Bligoo community is just one of Chatwing's initial steps. There are many steps to cover, making the Chatwing developers busier than before. To keep all of their users well-informed, the Chatwing team is currently maintaining a series of blogs filled with knowledge about the shoutbox.
About Chatwing.com
Chatwing.com specializes in the new field of website chat. Over years, the Chatwing team has introduced live chat widget for hundreds and thousands of blogs. The Chatwing application bridges people from many parts of the world, creating global synergy through the Internet. The shout box can be installed in just seconds, and it can be used for varying purposes such as leisure and Internet marketing. It also allows a user to customize the size, color, and name of the widget. Chatwing is 100% free for everyone.