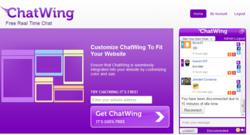 Los Angeles, CA (PRWEB) September 29, 2012
Wordpress game blogging is moving on to better standards, especially now that gamers are looking for tips and hints through blogs. By understanding the important premise of gaming, the Chatwing Development Team has introduced a website chat box that can help game bloggers find more visitors. The recent Chatwing chat app is capable of global communication, social media sharing, high customization, and easy installation mechanism.
Wordpress game bloggers often love to share tips along with some pictures of their latest games. Aside from photos, gaming videos help entice hundreds and thousands of visitors from different parts of the world. To keep a game blogger's visitors highly interested, Chatwing chatroom provides a way of interaction for everyone. Through the Chatwing free shout box, gamer visitors can now post their questions and the blogger can answer them right away.
The Chatwing chatbox can also be installed to any blog or website. The installation process takes only few seconds to accomplish. To install the Chatwing app, the user must first register his blog's domain name. After that, he will now be taken to the Chatwing dashboard. In the dashboard, the user can edit the appearance of the shoutbox. He can choose the size, color, and even rename the widget to fit the theme of his blog. In the recent version of the Chatwing app, the user can add unlimited chat boxes and moderators.
The developers of Chatwing believe that gaming communities will continue to grow as the blogosphere never stops expanding. To cope with the possible influx of users, the Chatwing dev team will introduce new upgrades to their free chatbox. In this way, everyone will be able to utilize the communication leverage offered by the Chatwing live chat tool.
About Chatwing.com
Chatwing.com specializes in the new field of website chat. Over years, the Chatwing team has introduced live chat widget for hundreds and thousands of blogs. The Chatwing application bridges people from many parts of the world, creating global synergy through the Internet. The shout box can be installed in just seconds, and it can be used for varying purposes such as leisure and Internet marketing. It also allows a user to customize the size, color, and name of the widget. Chatwing is 100% free for everyone.