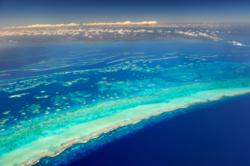 The Lodge at Chaa Creek was also featured as one of the National Geographic top ten "Best Adventure Destinations for 2012".
(PRWEB) September 27, 2012
National Geographic magazine's October feature on the Mesoamerican Barrier Reef is welcomed as one more positive step towards raising awareness of Belize's precious natural assets, Chaa Creek owner and noted Belizean environmentalist Mick Fleming said today.
"National Geographic has always been a good friend of Belize's in raising global awareness about our very precious yet very fragile natural resources," Mr Fleming said. "In a country such as Belize where resources are limited, the best protection for our natural resources is public awareness," he added.
The Mesoamerican Reef, described in the article as "half the length of its famous Australian counterpart but in many ways more remarkable," contains Belize's Great Barrier Reef, one of the country's most remarkable – and most fragile, geological assets. This fragility and the interplay between coral, mangrove and marine life is beautifully described in words and images, he said.
Past editions of National Geographic have highlighted parts of Belize's sacred Maya cave system and the region's Maya culture. Mr Fleming said that along with Jacques Cousteau, National Geographic was instrumental in bringing attention to Belize's Blue Hole, which has become one of the world's most valued dive spots and now enjoys a higher level of environmental protection.
"These natural wonders are not only Belizean, but also part of the world's natural assets and shared heritage. National Geographic has always played an important role in letting the rest of the world know just how spectacular they are, and this awareness goes a long way in helping us protect them."
Mr Fleming pointed out that National Geographic has also played an important role in putting the spotlight on Belize's Maya culture and the many Maya temples, archaeological sites and antiquities he, his wife Lucy and Chaa Creek's naturalist guides and staff have long fought to protect.
"Living in the 'Heartland of the Maya', as the area around Chaa Creek is called, has given us a real sense of just how rich this ancient culture is, and initially we felt some frustration in trying to raise awareness that the many archaeological sites here and in Guatemala needed protection from things such as looters and development. Thirty years ago it seemed like a daunting task, but international media including National Geographic has raised the profile and created interest which led to more research and greater protection, similar to what has been done with our natural treasures.
"So we have many reasons to be thankful for National Geographic, and very happy that once again they are bringing something so near and dear to our hearts to the world's attention," he said.
The Lodge at Chaa Creek was also featured as one of the National Geographic top ten "Best Adventure Destinations for 2012".
"It's great when a highly respected international publication as National Geographic pays so much attention to a tiny, off the beaten track country such as Belize. Sometimes those of us living here forget what a beautiful, incredible part of the world this is, so it's very nice to be reminded by such an authoritative voice," Mr Fleming said.