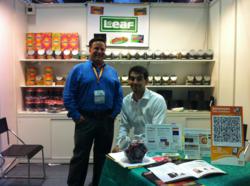 "The demand for Leaf's products in other countries such as Astro Pops®, Farts Candy®, Sour Spanks!™ and David's Signature Beyond Gourmet® has been so incredible, we had to create an international strategy rather quickly to keep up with demand"
Newport Coast, CA (PRWEB) September 27, 2012
Leaf Brands® today announced several new distribution partnerships which will enlarge their markets from an international standpoint. The continuous improvement in the standard of living and growing middle classes around the globe has accelerated demand for Leaf's products as people become more focused on looking for high-quality and health-oriented candy and sweets from US and European countries.
At the recent Hong Kong Food Expo, international candy distributors flocked to Leaf Brand's booth to get a glimpse of the new American candy they had never seen before. "The demand for Leaf's products in other countries such as Astro Pops®, Farts Candy®, Sour Spanks!™ and David's Signature Beyond Gourmet® has been so incredible, we had to create an international strategy rather quickly to keep up with demand," says Cody Sheean, Country Manager for Leaf Brands in Asia. "Leaf's products seem to be of particular interest because of our unique and quirky new confectionery products." "We now receive daily inquiries from all over the world and are starting to ship to some amazing locations," he said. "Savvy distributors see great potential for Leaf products in these international markets, and we are thrilled."
Although Leaf Brands® isn't the first confectionery company to have their product go international; they have done so in record timing. Leaf Brands' rapid growth reflects the irresistible push for distributors to get their candy into Asian Markets, stemming from a demand for higher quality candy in these countries. According to the New York Times, American confectioners may almost be said to dominate the market in their line in Hong Kong at the present time, once controlled by British goods in the past. The Times revealed that sales proved the most lucrative for the Asia-Pacific confectionery market in 2010, generating total revenues of $12.2 billion, equivalent to 45.2% of the market's overall value.
Among the countries receiving Leaf Brands' candy are Europe, Australia, Nigeria, Russia, Hong Kong, Kenya, Lebanon, Israel, India, Pakistan, and Mainland China. Leaf has recently signed Jerome Trading LTD located in Beirut Lebanon to focus on building out African and the Middle East. CEO Roger Serad commented, "The focus of Jerome Trading has been the local and regional relationships and distribution experience in the Middle East and Africa markets." Serad included, "We are excited to bring back the quality and history of Leaf Brands to this part of the world."
These new international channels will help create economic roots here in California. According to Ellia Kassoff, Managing Partner for Leaf Brands, "More demand for Leaf products will contribute to the state's economy as the thriving confectionery continues to grow." "Along with this growth we will undoubtedly be adding staff, which will mean new jobs."
As acting U.S. Commerce Secretary Rebecca Blank recently stated, "The continued growth of exports from our cities and communities across the country are making a real difference in creating American jobs and helping grow our economy." Kassoff sees the opportunity for Leaf to emerge as a leading California exporter in the confectionery industry.
###
About Leaf Brands®, LLC: The original LEAF Brands® were started in the 1920's. LEAF Brands, once the fourth largest candy producer in North America, produced candy classics such as Whoppers®, Jolly Rancher® and Rain Blo Bubblegum®, which were later sold to Hershey Chocolate & Confectionery Corporation in the late 1990's. Family members have acquired the LEAF brand name for the US, and assembled together to revive the Leaf name and its famous image. Products include Astro Pops®, Yummers!®, Farts Candy® and David's Signature Beyond Gourmet® products.
For additional information, contact:
Caleb Akey
caleb(at)leafbrands(dot)com
http://www.leafbrands.com
(949) 300 8223