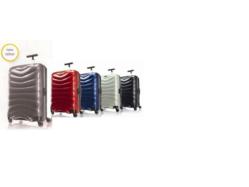 The new colour of "Eclipse Grey" has been added to this high tech collection
Kent (PRWEB UK) 28 September 2012
The Firelite by Samsonite in the travel collection started with four available colours of Charcoal, Deep Blue, Chilli Red and Off White. The new colour of "Eclipse Grey" has been added to this high tech collection.
This range aims at the Dynamic traveller who is active and "young hearted" and maybe spends a great amount of time away from home. Frequent travelling consumers always look for convenience to allow their journeys to be most enjoyable. The Firelite brings lightness allowing extra to be packed. It brings convenience with the sporty manoeuvrable wheels and integrated top and side handles. Its strong water resistant zipper brings reassurance of keeping internal items dry during transit.
At least 50% of consumers suffered with luggage damage during their trip (Hardside survey in Germany & Spain, May 2010) and the Hardside market is growing by 31.9% according to Samsonite. The Firelite offers solutions to both issues with its construction made from the revolutionary CURV material that provides consumers with a range of cases that are strong and extreme impact resistant at low temperatures putting up with a lot of misuse and airline handling. The texture and style of the cases allow easy cleaning with the recommended methods by Samsonite.
Samsonite's inspiration for the design with this range comes from the extreme sports scene.
Luggage Superstore established site is in West Kingsdown, Kent. Their aim is providing competitive prices of the highest quality luggage and top calibre Customer Service for online luggage shopping.
Trina Chee-a-kwai
Luggage Superstore
01474 854666
Email information