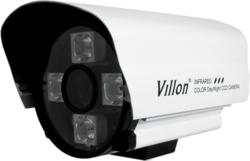 Villon CMOS HD IR-Cut CCTV Cameras has been in the spotlight on the security market now.
(PRWEB) September 28, 2012
Villon Technology will attend the Global Sources' Fall 2012 Electronics Trade Shows, which will be held on October 12 -15, 2012 in the Hong Kong Asia World-Expo Center. The export situation is grim in 2012, and the Electronics Shows, through the exhibition and contact with international professional buyers, are an effective way to expand exports. "As a leading CCTV Camera brand, Villon Technology naturally will not miss this opportunity." said, Mr. Gao, CEO of Villon Technology.
"I believe the shows can help Villon open up overseas markets, and Villon CCTV's brand building will greatly help to accelerate the pace of development of Villon Technology in the international market. Villon Technology will expand its production line to more CCTV models, especially more IR-Cut CCTV Cameras." continued, Mr. Gao.
Since Villon Technology launched its new Double IR-Cut Product, WL-I104, on Sep 17. 2012, which is considered by Villon to be King of CMOS HD CCTV Camera. Villon CMOS HD IR-Cut CCTV Cameras are selling well in the market recently, in the next few months. Villon CMOS HD IR-Cut CCTV Cameras has been in the spotlight on the security market. Many international buyers from Europe and the United States, Japan and South Korea and other countries, have expressed great interest in Villon CCTV Cameras.
Mr. Gao stated, "CMOS HD Double IR-Cut Cameras are new products in the CCTV industry, and it has been the fashion in the CCTV industry of 2012. Villon is strong at CCTV security system equipments' OEM and ODM, especially at IR-Cut CCTV Cameras. Villon's motor-type 600-TVL Double IR-CUTs Camera, with Independent intellectual property rights, is the most advanced and stable IR-CUT equipment."
About Global Sources
Global Sources is a leading business-to-business media company and a primary facilitator of trade with Greater China.
About Villon Technology
Founded in 2005, Shenzhen Villon Technology Co., Ltd. is a CCTV security technology company with the eligibility of production,installation and maintenance of security products, approved by the Guangdong Province Public Security Bureau. Villon CCTV surveillance products, especially its Doube IR-Cut s Cameras, are proudly used by several well-known domestic and foreign security companies.
For more info about IR Cut Cameras, please visit: http://www.villoncctv.com/