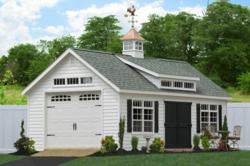 The demand for bigger and better wooden sheds and garages continues to grow
Baltimore, MD (PRWEB) September 27, 2012
Beginning nearly 25 years ago the Amish-Mennonite owned Sheds Unlimited Inc. of Lancaster County Pennsylvania began producing small wooden storage sheds. With five growing sons on the struggling family farm, Stephen Stoltzfus Sr. decided it was time to begin a small wooden sheds business on the fourth generation family farm. Complications arose with local ordinances, but despite the barriers, today the family owned and operated corporation continues to build bigger and fancier wooden storage sheds, prefab vinyl sided sheds and barns and prefab car garages. "The demand for bigger and better wooden sheds and garages continues to grow," says Chris Stoltzfus, the middle son of five who now manages design and marketing for the growing corporation.
It was during a time when (as today) farming was a tough business for many Amish and Mennonite families in rural Lancaster County, PA. With low milk prices and huge investments, Amish farmers began searching for supplemental income to support their typically large families. Such was the case with Sheds Unlimited founder and owner Stephen J Stoltzfus Sr. With seven children in the family and a struggling farm economy, he decided to begin building sheds for storage in one of the farm buildings on the Gap, Pennsylvania farm. The farm has been in the family for four generations now, and as of 2012, a visit to the family farm might find the fifth generation running around the property on a John Deere Gator or miniature pony. These days "Grandpa," as Stephen Sr. is called around the farm and storage shed company, is gone most of the time volunteering with his wife Anna at Faith Builders Educational Programs in Guys Mills, PA.
Despite having to move the budding Amish wooden sheds manufacturing facility early on due to zoning regulations, today Sheds Unlimited continues to provide some of the most diverse line of Amish sheds, wooden sheds and vinyl sheds in Lancaster County. Not only does the growing family owned corporation produce wooden and vinyl sheds and barns, the past years have seen tremendous growth in the sales of one car garages, two and three car garages, attic car garages and more recently vinyl and wooden two story sheds, barns and garages. It is the newer, bigger and fancier lines which customers seem to be catching onto at Sheds Unlimited.
Take for the example the newest line of Premier Garden Sheds and Barns from this Amish Mennonite owned company. These buildings combine a roomy interior with some breathtaking aesthetic outward beauty. At the time of writing, Sheds Unlimited had a 14x24 Premier Garden wooden garage shed on their lot in Lancaster County, PA. The fourth son in the Stoltzfus Sheds family reports that customers see the Premier Garden Garage on the website and say they have not seen anything like it among other car garage builders in the area.
The Premier Garden Sheds line is not just about car garages. They can also be ordered as wooden sheds, vinyl sheds or clapboard painted sheds. No matter what the outer covering, these prefab sheds are certainly among the most attractive buildings in the Lancaster County area.
So whether one is looking for sheds in Maryland, Delaware, New Jersey, New York, Connecticut, Virginia, West Virginia, and of course, Pennsylvania, Sheds Unlimited provides both a wide range of choices and a convenient family environment for customers and employees alike.
Potential customers are welcome to visit the prefab sheds manufacturing facility in Lancaster County, PA to see for themselves what they have to offer. One word of caution upon arriving and departing might be to watch out for the grandchildren enjoying the open spaces on the family farm. Visiting the farm and seeing all the action can be a very fascinating experience for those of us from outside Lancaster County. Plus, one can buy a beautiful wooden shed, vinyl sided sheds, prefab car garage or a two-story building direct from this family owned company in rural Lancaster County, PA.