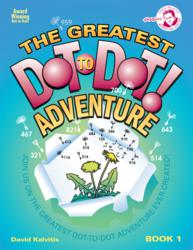 The Greatest Dot-to-Dot Adventure – Book 1 is quite the creative effort
Rochester, NY (PRWEB) September 27, 2012
Known for their award winning dot to dot puzzle books, Monkeying Around is proud to announce their Greatest Dot-to-Dot Adventure – Book 1 has been given due recognition as a recipient of The Toy Man® Seal of Approval. As one of the newest inductees to The Toy Man®'s list of fabulous new products/services that come highly recommended for consumers or commercial buying, Adventure Book 1 comes with The Toy Man® Award of Excellence, The Toy Man® eChoice Award, and The Toy Man® eco-Recognition Seal.
The Greatest Dot-to-Dot Adventure – Book 1 begins following an imaginative young boy searching for the missing pieces of a mysterious gift. Together, visitors will navigate challenging puzzles and unearth secret clues to discover new species of dots and spectacular views. One can even challenge themselves by scaling the 'Everest of Connect-the-Dots,' a four page foldout puzzle comprised of a record breaking 2,600 dots.
"The Greatest Dot-to-Dot Adventure – Book 1 is quite the creative effort," says Rev. James 'The Toy Man®' Fisher. "It breaks from redundancy in style and design to introduce an enlivening new approach. It creates a bonfire of abstract interest and excitement in this, the beginning of an entirely new book series. Our entire team agreed that the new direction taken with the 'Adventure' series, renews their interest and level of attention devoted to the evaluation of the book."
The Toy Man® Seal of Approval was first established in January 1971 by the International Parenting Institute. It was modeled after the "Good Housekeeping Seal of Approval," an emblem of recognition for products which meet the globally recognized high standards set forth by the good Housekeeping Institute. The emblem was designed to give recognition to products which met the strict evaluation standards of The Toy Man® Product Guide.
Rated on categories including content quality, critical skill development, design quality, educational value, marketing value and visual appeal, The Greatest Dot-to-Dot Adventure – Book 1 surpassed the strict evaluation process and stands as a precedent for creative and cognitive development.
For more information visit http://www.monkeyingaround.com/
The Toy Man®
Since 1971, The Toy Man®, (a.k.a. Rev. James G.W. Fisher) has been recognized for his unceasing efforts in educating parents and buyers in making intelligent buying decisions. He has been an inspiring voice as a keynote speaker in "Global Summit" events on safety concerns in children's products and services as well as noted authority with influence that makes a difference. As the primary founder of The Toy Man® Product Guide, he continues with a well qualified and credentialed team to deliver the most lengthy and in-depth product and service evaluation reports available, in addition to up to date industry news.
About Monkeying Around
Dot to dot publisher, Monkeying Around, was founded in 2000 by puzzle creator David Kalvitis. Kalvitis is a lifelong puzzle and game fan, has a Fine Arts degree from Syracuse University and previously operated a graphic design business in Upstate NY for 13 years. Since 2000, Monkeying Around has been dedicated to offering innovative dot-to-dot products that will delight and entertain children and adults of all ages. Monkeying Around produces "The Greatest Dot-to-Dot Books in the World," a challenging collection of unique dot-to-dot surprises and variations. The company also publishes "The Greatest Newspaper Dot-to-Dot Puzzles," pocket and travel sized collections of weekly syndicated puzzles, in the pages of USA newspapers. In 2007, the first of four "Greatest Dot-to-Dot Super Challenge" books was introduced. David Kalvitis is currently working on the next Greatest Dot-to-Dot Adventure Book.