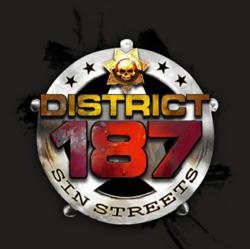 El Segundo, CA (PRWEB) September 27, 2012
CJ Games Global (http://www.netmarble.com), today announced the open beta date for its anticipated, free-to-play, first-person shooter, District 187: Sin Streets, Tuesday, October 9. The open beta will include major updates, introducing new maps, new weapons and more!
In addition, District 187's popularity has driven the Netmarble portal, to well over 1 million registered players! To celebrate, players can now enter District 187: Sin Streets without a beta key.
"We've been floored by the overwhelming turnout for closed beta," said producer Jon-Enée Merriex. "The servers have held up under the pressure and we're ready to take it to the next level prior to Open Beta on October 9th!"
CJ Games Global is also hosting a 'Play & Win' Event this weekend, with the grand prize being an AlienwareTM M14x gaming laptop! Today through Sunday, September 30, players who login and play District 187 for at least one hour will be automatically entered for a chance to win.
Prizes for the Play & Win event this weekend (September 27th – September 30th) include:
Grand Prize: AlienwareTM M14x gaming laptop [~$1099 value]
2nd Place: Gaming Set (Keyboard, Headset, Mouse) [~$450 value]
3rd Place: District 187 Gear Pack (includes exclusive T-Shirt and more!) [~$50 value]
How to enter District 187: Sin Streets Play & Win giveaway

The Play & Win event is void where prohibited. No purchase is necessary. Only eligible players 18 or older who reside in the United States may win physical prizes. Chance to win the Grand and 2nd Place prizes are 1:600,000. The chance to win the 3rd Place prize is 1:200,000. Winner is responsible for all taxes. Only one entry per day is allowed. Players may enter more than once during the weekend. Alienware and the Alienware logo are registered trademarks and trademarks of Alienware Corporation.
District 187: Sin Streets screenshots and videos can be viewed here: http://www.district187.com
To receive up-to-date information on District 187: Sin Streets, follow:
Facebook: 'Like' and Comment at https://www.facebook.com/CJDistrict187
Forums: Join the community http://forum.netmarble.com/index.asp?fid=48
About District 187: Sin Streets
Set at the end of the 21st century - after the collapse of the world economy - District 187: Sin Streets features cut-throat, urbanized warfare in a player vs. player environment. Game play matches vigilante SWAT agents against ruthless gang members.
About CJ Games Global
CJ Games Global is the U.S. subsidiary of CJ E&M Game Division established in 2012. Supported by its development studios in Korea, CJ Games Global aims to publish online games on PC and mobile devices in North America, South America and Europe. The company services its players through its game portal http://www.netmarble.com.
About CJ GameLab
CJ GameLab is a development studio of CJ E&M Game Division, headquartered in Seoul, South Korea. CJ GameLab is a free-to-play online game developer, with current titles including first-person-shooters (FPS) District 187 and Hounds and its strategic web browser title, Kingdoms.