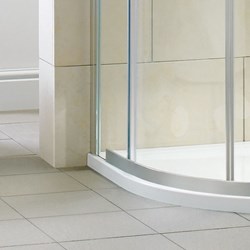 Bella Bathrooms have made a tough task simple by improving their online website.
(PRWEB UK) 27 September 2012
With the range of products rapidly being produced within the bathroom market, Bella Bathrooms have made a tough task simple by improving their online website. With new filtering navigation in the Shower Trays category, identifying a product that is of correct shape, length and width has been made a simple task. The company understand the importance of finding the appropriate shower tray to partner up with any shower enclosure and have therefore enabled customers to select any specific key characteristics that may affect their choice.
As shower enclosures need to fit within a specific area, it is vital that the appropriate shower tray is bought. For smaller bathrooms, a smaller shower tray is necessary to avoid a restriction in free space for other key products. A quadrant shower tray can provide a wonderful function if space is limited whereas a rectangle shower tray may be perfect for those with a wider range of free space. With the wide variety of bathroom brands, Bella Bathrooms have stocked only the finest of manufactures to ensure all of their products are of high standards. The filter option of selecting a specific brand enables home owners with the ability to search for certain products they may favour.
The height of the shower tray is also a key characteristic that consumers may want to identify before purchasing a product. Bella Bathrooms understand the need of knowing such vital information and have therefore also included a 'height' filter. For those wanting a low profile design, 25mm trays are ideal in creating a simplistic feel and look. For those wanting a more full and bulky shower tray, the 100mm shower trays are available for viewing just by one simple click.
As a spending budget can often influence the purchase a consumer makes, Bella Bathrooms have integrated a useful price selection bar allowing home owners to select a specific price. The cheapest item available within the specific category is displayed below this function, informing consumers on just how little they need to spend on quality assured products.
About Bella Bathrooms:
Bella Bathrooms is one of the finest UK online bathroom retailers based in the North-East of England and offer continuous great deals of bathroom refurbishments, shower, tower rail and radiator updates, bathroom furniture and various other key aspects at prices that are guaranteed to be unsurpassable. The latest updates continuously made have further improved the overall quality and they have set a high standard for things to come in the future.
Bella Bathrooms
Tel: 0844 8117 017
Available to contact from 9:00 – 5:30