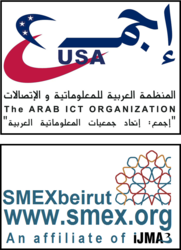 Zakka: "We look forward to more positive steps especially after Mr. Najem has joined IJMA3-USA, as he brings valuable experience, and we look forward to providing him with all the possible support to succeed in this new position."
Washington DC (PRWEB) September 29, 2012
Establishing the largest Social Media and Advocacy group in the Middle East and North Africa, an agreement was signed in Washington, DC between The Arab ICT Organization (IJMA3) headquartered in Beirut with affiliation in Washington DC, and SMEX (Social Media Exchange), a Lebanese association specializing in online social media and strategy. The agreement establishes SMEX as an affiliate of IJMA3, an important step in advancing Arab information and communications technology (ICT) capacity and promoting freedom of expression.
IJMA3 is an international organization representing the Arab ICT private sector, and plays a leading role in the global advancement of Internet freedom. Based in Beirut, SMEX is specialized in topics including training, development and awareness of the services and possibilities of online social media. In this agreement, IJMA3 will provide technical support and assistance packages to SMEX. IJMA3 will benefit from SMEX through more inclusive development programs in the sectors of ICT and human development, and establishes IJMA3 as one of the premier Arab organizations working on ICT for Development issues.
Mr. Nizar Zakka, Secretary General of IJMA3, stated: "The affiliation of SMEX with IJMA3 is an important strategic step that will open a wide range of possibilities, and give both organizations diversity in expertise in implementing projects across all ICT development sectors".
Mr. Mohamad Najem, the President of SMEX, will also join IJMA3's Washington, DC based affiliate, IJMA3-USA as Director of Advocacy and Social Media. Mr. Zakka added: "We look forward to more positive steps especially after Mr. Najem has joined IJMA3-USA, as he brings valuable experience, and we look forward to providing him with all the possible support to succeed in this new position."
For his part, Mr. Najem, expressed pride and optimism about this step, adding, "there is no doubt that merging with IJMA3 is a quantum leap in the history of SMEX. After establishing integrated business rules concerning social media development at the local level in Lebanon, IJMA3's global positioning will provide an opportunity for us to apply our expertise and experience on a regional and global level. I consider my new position at IJMA3-USA as an opportunity for me and for SMEX to expand the reach and scope of the programs that IJMA3 will implement".
Mrs. Jessica Dheere, CEO of SMEX welcomed the joining of SMEX to IJMA3 and described it as a "quality development" and a "leap forward" in the history of SMEX and its growth, saying, "we look at this affiliation with the eye of optimism and we expect it to open wider horizons and doors for the Arab region and that SMEX will work through IJMA3 in implementing various development programs especially in the field of democracy and freedom of expression through the internet, which IJMA3 has pioneered in the region.
About IJMA3-USA
IJMA3-USA is a 501(c)(3) organization based in Washington, D.C. that brings together diverse stakeholders in pursuit of policies that support Arab ICT and Internet freedom, bolster civil society, and create growth opportunities and new partnerships for Arab ICT companies. IJMA3-USA is closely allied with its sister organization, IJMA3 - The Arab ICT Organization, based in the Arab region. IJMA3 is a non-governmental umbrella organization representing 19 national ICT associations from across the Middle East and North Africa. Together, IJMA3 and IJMA3-USA work to advocate policies that advance the ICT industry's growth and development; facilitate international trade and investment in ICT products and services; and harness ICT towards the fulfillment of critical development challenges.
About IJMA3-The Arab ICT Organization
IJMA3-The Arab ICT Organization (IJMA3) is an international non-governmental non-profit organization headquartered in Beirut, Lebanon and with offices in the Arab countries and Washington DC, USA consisting of a consortium of more than 18 national ICT association members from countries across the MENA region. As the regional voice of the ICT industry, IJMA3 is dedicated to advocating policies that advance the industry's growth and development; facilitating international trade and investment in ICT products and services; and harnessing ICT toward the fulfillment of critical regional development challenges. IJMA3 is a member of, and regional representative for the MENA and Central Asia regions for the World IT and Services Alliance (WITSA), an international body representing the interests of the ICT industry globally, for which IJMA3's Secretary-General serves as a Vice Chairman of WITSA.