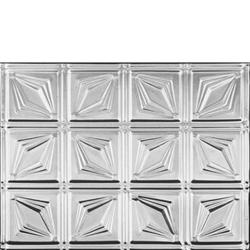 (PRWEB) September 27, 2012
The two Decorative Ceiling Tiles products were used to add sparkle as upper and lower borders on the stage backdrop, a suspended television monitor, and video walls that were used to show clips as well as live video and photographs of the nominees. The two tiles used were the 1275 The Lounge decorative tin ceiling tile and the 0611 Classic Prism tin backsplash, both in a sparkling silver finish.
These products were seen by over 15 million viewers of the Primetime Emmy Awards, which were emceed by late-night talk show host Jimmy Kimmel and featured celebrity presenters, entertainers, nominees, and winners from throughout the television industry.
Photos of this unique use of the ceiling tile and backsplash can be viewed on the official website of the Academy of Television Arts and Sciences.
In addition to ceilings, other creative locations in which decorative ceiling tiles have been used include photography backdrops and floors, as well as headboards for beds.
With headquarters in Florida and distributors and installers throughout the United States and select overseas locations, Decorative Ceiling Tiles.net is the online leader in the sales of decorative ceiling tiles.