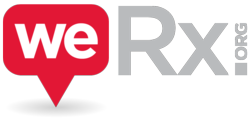 High costs within a less than transparent pharmaceutical market, combined with a person's failure to take medication as prescribed, costs our nation 100 billion dollars per year
Charlotte, NC (PRWEB) September 28, 2012
WeRx.org is a unique online tool created by a team of compassionate doctors who believe that all patients deserve the right to make informed decisions about their own healthcare. The innovative new website and mobile application provides users with a platform to share and compare the most up-to-date information regarding prescription drug costs within their local pharmacies.
"An alarming number of Americans do not take their medication as prescribed because they cannot afford it," says WeRx.org founder, Ali Khoshnevis. "Cost discrepancies and a lack of public information should not be the compromising factor in an individual's right to enjoy good health."
High costs within a less than transparent pharmaceutical market, combined with a person's failure to take medication as prescribed, costs our nation 100 billion dollars per year. The WeRx.org initiative is more than just a tool that helps people save money. It's a social movement designed to promote awareness, build community, and strengthen patient advocacy, while exposing the major discrepancies in prescription drug costs today.
Charlotte based Optometrist and WeRx.org co-founder, Amir Khoshnevis says, "As doctors, we are dedicated to offering our patients the highest level of care possible, and that means arming them with knowledge and information that transcends far beyond the office walls."