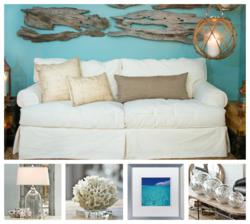 Vero Beach, FL (PRWEB) September 28, 2012
Our Boat House is proud to announce their home accent sale. They are offering 20% off of all home accent products. This sale will include the three new additions to their product offering; Coastal Rope Lanterns, Indigo Throws, and Hampton Ecofriendly Indestructible Rugs. The category of home accents encompasses many different products such as, accent pieces, accessories, wall hangings, trunks, and rugs. The wide variety of home accents, offered by Our Boat House, adds the finishing touches that can turn any space into the perfect coastal paradise. The addition of these unique products will add interest, texture, rustic warmth and time-worn imperfection to complete the decor of any setting and bring comfort to the overall feel of the room.
Our Boat House would like to help readers get acquainted with their new product offering. The new Hampton Ecofriendly Rugs are made from 100% PVC and are virtually indestructible. These indoor/outdoor runners and area rugs are loomed in Sweden and are Hypo-Allergenic, mildew resistant, don't fade, are recyclable, scrubbable, machine washable and can be hosed down and hung to dry making them perfect rugs for high-traffic areas and muddy messes. The wide variety of color combinations makes them a perfect addition to any space. The new Montauk Rope and Glass Float Grand Lantern is a glass float candle holder wrapped in rustic rope. This accent adds drama and warmth, completing the décor of any room. The new Indigo Throw from Mali is a beautiful nautical accent that adds color, style, and comfort to any room.
The following are just a few of Our Boat House's other coastal home furnishing selections:
Our Boat House specializes in coastal home furnishings with a classic view and offers two collections of Slip-covered Furniture - The Oceanside and The Harbor side - The collections include classic slip-covered sofas, sleepers, sectionals, chaises, chairs and ottomans that are down-filled and designed for extreme comfort and affordability. Relax with the Casual Coastal style of easy-care washable slipcovers in crisp cottons, natural linens, denim, hemp fabrics and more that are replaceable and made in the U.S.A.
Nautical Lighting
Our Boat House's Unique Coastal Style Lighting Collection from around the world is high quality and designed to complement any coastal style home and provide a historic beach home feel. Iron and rope chandeliers, copper fox lights, rustic lanterns with a time worn patina, rustic candle pendants, handmade sea shell chandeliers, authentic brass passageway lights, driftwood lamps, coral shell lamps, authentic brass dock and piling lights, USCG lights, plus much more.
Our Boat House offers a collection of accent pieces, accessories, wall hangings, trunks and benches that will add interest, texture, rustic warmth and time-worn imperfection that will turn any space into the perfect coastal paradise. Authentic nautical accessories and treasures from ships from around the world. Hard to find genuine nautical, maritime decor, collectibles and furnishings-sea glass floats, ship's bells, portholes, diving helmets, bulkhead lights, brass binnacles, brass ship lights, passageway lights, fox lights, and so much more.
Make sure you follow us on Twitter.
Become a fan of OurBoatHouse.com on Facebook.