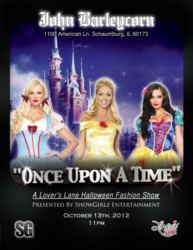 Plymouth, MI (PRWEB) September 27, 2012
With a successful chain of 30 lingerie and adult gift stores throughout the Midwest and an even larger selection available online, Lover's Lane has been helping couples spice up romantic evenings for two decades now. And in that time, they've developed a reputation for being the premier source for adult Halloween costumes, adding a little extra to the already spicy autumn season.
Following the company motto of "monogamy without monotony," Lover's Lane's sexy Halloween costumes are designed with a versatility for any occasion year 'round, which proves, like Halloween, monogamy doesn't have to be scary.
This year, Lover's Lane will be putting on a string of Halloween events and promotions in Michigan and Illinois. Most notably, the "Once Upon A Time" Lover's Lane Halloween Fashion Show will take place on Friday, October 13 at the John Barleycorn in Schaumburg, IL. The show will feature the seasonal line of sexy Halloween costumes in sizes ranging from petite to plus size. Costumes can be previewed on a WGN TV morning news feature on Wednesday, October 10 at 7:30 a.m., CST.
In Michigan, Lover's Lane will be teaming up with WYCD Radio for their October broadcasts from Diamondback Saloon. Lover's Lane will be giving away prizes and outfitting the staff in sexy Halloween costumes.
89x Radio Detroit will help spread the romance with its Lover's Lane gift card giveaways, broadcast at the Tap Room in MGM Casino on October 5. These gift cards can be used on anything from sensual toys and accessories to adult Halloween costumes, and are valid at any Lover's Lane location or online.
And finally, from October 8-19, Lover's Lane will be sponsoring a sexy Halloween costume contest in conjunction with WWCK Radio in Flint. The contest will be hosted on the station's website with the sexiest Halloween costume winning a $200 Lover's Lane gift card.
While Lover's Lane believes every day can be an intimate occasion, the Halloween season is always an especially good excuse for couples to play together. For access to Lover's Lane's extensive lingerie and adult gift inventory, including great deals on sexy Halloween costumes, please visit http://www.loverslane.com, or Lover's Lane store near you.