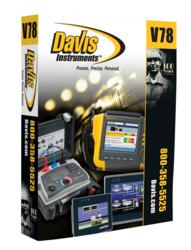 (PRWEB) September 27, 2012
Find the most-requested brands and industry-leading test, measurement, control, and calibration equipment in the new Davis Instruments V78 Sourcebook. This comprehensive resource offers a full selection of top-performing products including both new technologies and repeat sellers.
Dynamic new items featured in the catalog include the AEMC® 10 kV and 15 kV Digital Megohmmeters, with a wide test range for maximum application flexibility. The new FLIR™ T440 Industrial Thermal Imaging Camera adds visible spectrum definition to IR images for amazing detail with its Multi-Spectral Dynamic Imaging (MSX) technology. The new Ashcroft® Digital Pressure Gauges with Backlight have a stainless steel sensor and easy-three button keypad programming for many versatile uses. The new Fluke® 810 Vibration Testing System identifies and locates imbalances, misalignments, loose bearings, and similar insufficiencies quickly to prevent downtime.
To view these products and find out more about calibration services and technical support, request a free V78 Sourcebook. Simply go to http://www.davis.com/19465 or call 800-358-5525.
Davis Instruments has been one of the world's leading sources of test, measurement, control, and calibration instruments since 1912. With expanding capabilities in industrial spheres such as power and utilities, petrochemicals, aerospace and electronics production, field services, and construction, the organization continues to respond to technological demands. Based in Vernon Hills, Illinois, Davis Instruments is dedicated to providing customers with excellent service and product applications expertise. For more information, contact Davis Instruments, 625 East Bunker Court, Vernon Hills, IL 60061. In the U.S.A. or Canada, call 800-358-5525. International customers, call 847-327-2000. Visit us at http://www.davis.com.