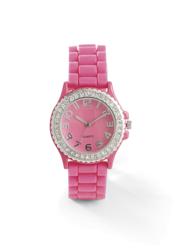 Milwaukee, WI (PRWEB) September 28, 2012
The Bon-Ton Stores, Inc. (NASDAQ: BONT) which includes its eight nameplates across the country: Bon-Ton, Bergner's, Boston Store, Carson's, Elder-Beerman, Herberger's, Parisian and Younkers has officially kicked-off National Breast Cancer Awareness Month with special merchandise to support breast cancer research now through the month of October. The Pink Shop – a special vignette in each store – offers unique merchandise that supports this cause. A portion of the proceeds from the sale of each item in the shop will be donated to fund breast cancer research at each of the Company's five designated beneficiaries:

The Pink Shop offers a special collection of over 20 items, the majority of which are exclusive to The Bon-Ton Stores. Specially designed items include a pink polka dot yoga mat, pink sports watch, graphic tees, manicure set, glitter wristlet and much more. Bonton.com will also offer ten exclusive breast cancer items that will be available for purchase year-round.
"Contributions through our 'Charge Against Breast Cancer' program fund important research, which is critical to find a cure for this disease," said Brendan Hoffman, President and CEO of The Bon-Ton Stores, Inc. "Supporting breast cancer research is an important cause which our customers and associates are passionate about."
Through the special initiatives of its Charge Against Breast Cancer™ and its October Pink Shop, The Bon-Ton Stores have donated $4.1 million to support breast cancer research.
About Bon-Ton:
The Bon-Ton Stores, Inc., with corporate headquarters in York, Pennsylvania and Milwaukee, Wisconsin, operates 272 department stores, which include 11 furniture galleries, in 23 states in the Northeast, Midwest and upper Great Plains under the Bon-Ton, Bergner's, Boston Store, Carson's, Elder-Beerman, Herberger's and Younkers nameplates and, in the Detroit, Michigan area, under the Parisian nameplate. The stores offer a broad assortment of national and private brand fashion apparel and accessories for women, men and children, as well as cosmetics and home furnishings. The Bon-Ton Stores, Inc. is an active and positive participant in the communities it serves. NASDAQ: BONT, Facebook.com/bonton.com, Twitter: @thebonton