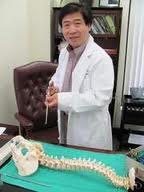 The new offices are large and comfortable, allowing for maximum convenience for our patients
West Orange, NJ (PRWEB) September 27, 2012
Atlantic Spine Center, a national leader in endoscopic spine surgery, announces an open house reception on September 29th from 10-1pm at its new offices at 475 Prospect Avenue, Suite 110, West Orange, NJ 07052, 973-419-0200. http://www.atlanticspinecenter.com. Staff will be available to welcome guests, show them around the new offices and answer any questions they may have about the practice and doctors. Additional, visitors will have an opportunity to receive a free MRI review by one of the Atlantic Spine Center surgeons. Light refreshments will be served. For more information about the open house call 973-419-0200.
"The new offices are large and comfortable, allowing for maximum convenience for our patients," notes Dr. Kaixuan Liu, MD, PhD, chief surgeon and founder of Atlantic Spine Center and Advanced Spine Surgery Center. This new office is an addition for Atlantic Spine Center which also offers two other office locations; 1921 Oak Tree Road, Edison, NJ and 855 Lehigh Ave, Union, NJ.
Along with Dr. Liu, Drs. Rae Aranas, Daveed D. Frazier, Joshua Landa and Fabien Bitan, Alexandra Carrer, David Bezov, Zifu Wang and Yinggang Zheng provide state of the art spine surgery solutions and pain management options for a wide variety of conditions. It is the practice's primary missions to provide expert diagnosis on the exact source of a patients' pain, to pursue conservative treatment options first and if these don't work, to offer the appropriate endoscopic spine surgery solution. Endoscopic surgeries are same day surgical techniques that are proven to be safe and effective in providing long lasting pain relief.
Atlantic Spine Center treats a wide variety of conditions to the back and neck including: Bulging Disc, Disc Degeneration, Disc Tear, Failed Back & Neck Surgery, Facet Joint Disease, Foraminal Stenosis, Herniated Disc, Pinched Nerve, Radiculitis, Radiculopathy, Sciatica, Spinal Bone Spurs, Spinal Stenosis and Spondylolisthesis.
"We look forward to seeing and treating our existing patients and new patients in our new offices in West Orange. We are growing to meet the ever increasing need to provide help and solutions for people with pain due to a chronic back or neck problem," adds Dr. Liu.
Dr. Liu: Kaixuan Liu, M.D., Ph.D., is a renowned endoscopic spine surgeon and founder of Atlantic Spine Center. Dr. Liu is certified by The American Board of Pain Medicine and The American Board of Anesthesiology, and is a member of The International Society for Advancement of Spine Surgery, The American Society of Interventional Pain Physicians (ASIPP), The American Academy of Pain Medicine (AAPM), The International Intradiscal Therapy Society (IITS), and The American Society of Anesthesiologists (ASA). He also serves as an international surgeon for The Spinal Foundations in England. http://www.atlanticspinecenter.com