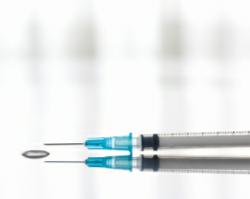 There is an impending healthcare crisis that threatens to set antibacterial therapy back 70 years
London, UK (PRWEB UK) 27 September 2012
The firm's latest study states that drug-resistant infections are more becoming more prevalent and expensive to treat thanks to the increased cost and duration of therapy. It is estimated that these infections cost the US healthcare industry over $20 billion each year – a number that is expected to increase with the spread of drug-resistant bacteria. GlobalData asks the question: Could vaccines against these bacteria be the solution?
"Most large pharmaceutical companies have all but abandoned antibiotic R&D in order to pursue more profitable indications, such as high cholesterol," says Dr. Ramya Kartikeyan, GlobalData's Head of Infectious Diseases. "This is leading to an impending healthcare crisis that threatens to set antibacterial therapy back 70 years."
Though initially slow to react, the US government has attempted to entice Big Pharma back to antibiotic R&D through the Generating Antibiotic Incentives Now (GAIN) Act which hastens FDA review and increases market exclusivity for novel antibiotics against a variety of drug-resistant bacteria, but it fails to adequately address antibiotic stewardship. Therefore, even if a new antibiotic is developed, it is likely that drug-resistance would quickly emerge, which makes vaccines against drug-resistant bacteria an attractive alternative.
Dr Brad Tebbets, GlobalData's Analyst for Infectious Diseases, says: "Vaccines have been effective in making once life-threatening bacterial infections like diphtheria and typhoid essentially disappear. NovaDigm Therapeutics hopes to continue this trend with vaccines designed against drug-resistant bacteria, such as Methicillin-resistant Staphylococcus aureus (MRSA).
"MRSA infections rates have decreased in recent years as hospitals have implemented protocols to prevent transmission, but drug-resistant infections, as a whole, are still on the rise."
NovaDigm thinks that its lead vaccine candidate, NDV-3, can provide relief. NDV-3 utilizes recombinant technology to design a surface antigen that elicits an immune response. The vaccine is also designed to provide protection against Candida albicans, a cause of life-threatening fungal infections. This cross-over immunity is crucial to the adoption of these vaccines, since both MRSA and C. albicans infections currently lack ideal treatment options.
GlaxoSmithKline (GSK), AstraZeneca, Pfizer, and Merck are all attempting to enter this market, which raises an interesting question: why should Big Pharma jump on the bacterial vaccine bandwagon after abandoning antibiotic R&D? "The answer," believes Dr. Tebbets, "could be as simple as the number of units sold. Unlike antibiotics, which are only administered after infection, the market size for vaccines is as large as the population. This increases Big Pharma's likelihood of recouping R&D costs and actually generating a profit."
Dr Kartikeyan concluded: "The US government should consider expanding its antibacterial therapy enticements to include vaccines, adopting a method similar to the European Innovative Medicines Initiative.
"Such an initiative would provide the impetus to encourage R&D, but more importantly would effectively eliminate preventable healthcare spending, benefitting the country as a whole."
For further information, see Is the Antibiotics R&D Crisis Reversible?