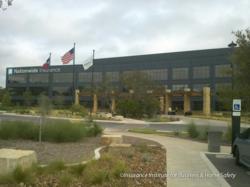 We applaud Nationwide's commitment to construct its new building so that it is both durable and sustainable.
San Antonio (PRWEB) September 27, 2012
The Insurance Institute for Business & Home Safety (IBHS), today, announced it awarded the first-ever FORTIFIED for Safer Business TM designation to the new Nationwide Insurance call center in San Antonio making the commercial building the first in the nation to be built to IBHS' disaster-resistant standards.
IBHS FORTIFIED Program Manager Fred Malik and IBHS Commercial Lines Engineer Chuck Miccolis presented Nationwide officials with the building's FORTIFIED designation today during a grand opening ceremony that included Speaker Joe Straus of the Texas House of Representatives and San Antonio City Manager Sheryl Sculley.
IBHS' program with voluntary superior construction standards for new light commercial buildings offers a package of improvements that greatly increase a building's durability and resilience to natural hazards prevalent in the area where it is being built. The new Nationwide building in San Antonio is designed to be more resistant to wildfire, hail and high winds.
Achieving a FORTIFIED for Safer Business designation helps businesses remain open, or re-open as quickly as possible, following a natural disaster, which is a time of significant need for customers, employees, and the community.
Along with earning the IBHS FORTIFIED for Safer Business designation, the Nationwide call center also was certified as a LEED (Leadership in Energy & Environmental Design) building by the U.S. Green Building Council.
"While much positive attention has been accorded energy efficiency during recent years, there is another, equally important aspect of weatherization — making buildings stronger and safer so they are better able to withstand natural disasters," said Malik. "We applaud Nationwide's commitment to construct its new building so that it is both durable and sustainable.
"The FORTIFIED for Safer Business designation is the perfect complement to a LEED certification because a home or business will not be environmentally sound if it ends up in a landfill or washed out to sea following a natural catastrophe," he added.
IBHS is a leading national expert on preparing for, and repairing and rebuilding structures after, a catastrophe to make them more disaster-resistant. To arrange an interview with IBHS, contact Joseph King at 813-675-1045/813-442-2845, jking (at) ibhs (dot) org or via direct message on Twitter @jsalking.
Visit http://www.DisasterSafety.org for more information about how to make your buildings more resistant to a variety of disasters, big and small. Follow IBHS on Twitter at @DisasterSafety and on Facebook.
About the IBHS
IBHS is an independent, nonprofit, scientific research and communications organization supported by the property insurance industry. The organization works to reduce the social and economic effects of natural disasters and other risks on residential and commercial property by conducting building science research and advocating improved construction, maintenance and preparedness practices.